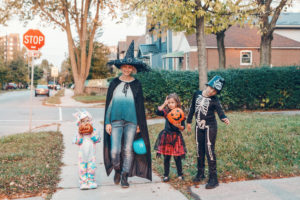 Halloween is one of the most popular holidays on the calendar. People from young to old look forward to dressing up as their favorite character with their friends and family to go trick-or-treating or to a costume party. While Halloween is a time for costumes, candy, and excitement, it is also full of its fair share of dangers.
2020 has been a challenging year, thanks in large part to the ongoing global pandemic. However, that doesn't look to stop Americans from celebrating Halloween this year. According to the National Retail Federation's annual survey, over 148 million U.S. adults plan to celebrate Halloween in 2020. As you can imagine, with so many people out and about this holiday, the risk of accidents only increases.
One of the most likely accidents to occur are Halloween pedestrian accidents. One of the most popular activities to engage in on Halloween is trick-or-treating. Trick-or-treating involves people, typically young children, walking around neighborhoods, going door to door, looking for candy. Unfortunately, as more people hit the streets, the risk of Halloween pedestrian accidents rises.
Pedestrian accidents are dangerous. They often involve individuals who do not have the protection of a vehicle. They are usually defenseless. Because a moving vehicle strikes them, they often sustain severe injuries or even death. The more people go trick-or-treating, the higher the likelihood of a Halloween pedestrian accident.
If you or someone you love finds themselves the victim of a pedestrian accident this Halloween, give the expert personal injury attorneys at The Green Law Firm a call as soon as possible.
What is a Pedestrian Accident?
As we learn more and more about the dangers motor vehicles present to our planet, more people are choosing alternative modes of transportation. From bikes to scooters, people are opting for a more environmentally-friendly transportation option. However, arguably the most popular choice is walking on foot. Whether walking, jogging, running, or otherwise, people are choosing to travel by foot more and more each day. Doing so makes them a pedestrian.
A pedestrian accident occurs when a vehicle (whether a car, truck, motorcycle, or another motor vehicle) strikes a pedestrian. In 2018, there were 6,283 pedestrian fatalities in traffic accidents. In the whole country, Texas ranks 14th in pedestrian fatalities per 100,000 people.
As you can see, these accidents are already a problem year-round. They become more likely and dangerous on nights like Halloween.
Halloween Pedestrian Accidents by the Numbers 
Every year, millions of Americans take to the streets on Halloween to go trick-or-treating with their family. They go door to door, hoping to score a surplus of candy. While Halloween is dangerous for various reasons (car accidents, drunk driving accidents, premises liability accidents, etc.), pedestrian accidents should be a point of emphasis.
To shine some light on Halloween pedestrian accidents, here are some vital statistics to know:
The risk of a pedestrian fatality on Halloween is 43% higher compared to regular evenings.
From 1975 to 2016, 608 pedestrians died in pedestrian accidents on Halloween.
Children between the ages of 4-8 are ten times more likely to die in a pedestrian accident on Halloween.
6 p.m. is the deadliest hour for trick-or-treaters.
Halloween is the deadliest day of the year for child pedestrian fatalities, averaging 5.5 fatalities every year, which more than doubles the rate of 2.6 for other days.
While many children and families go trick-or-treating on Halloween, some adults go to costume parties or bar crawls to celebrate. 86% of adults bring alcohol with them to Halloween parties. Unfortunately, far too many individuals get behind the wheel of a car after drinking, which often leads to Halloween pedestrian accidents.
What makes matters worse is that children are particularly at risk.
Children and Halloween Pedestrian Accidents
As you can see from the above statistics, children are far too often the victims of pedestrian accidents on Halloween. It makes sense, however. Children are often the ones engaging in trick-or-treating, which means the streets are full of groups of kids. And often, they don't know the best practices to keep them safe.
Unfortunately, many parents do not prepare their children for this night out, either. According to Protect America, 82% of parents do not put reflective tape or other visibility aids on their child's costume to help drivers see them better. 63% of children do not carry a flashlight with them when they go trick-or-treating.
Adult supervision is one of the best ways to protect children on Halloween. Unfortunately, that doesn't always happen. In fact, 70% of parents do not even join their children when they go trick-or-treating, with 12% of children younger than six years old allowed to trick-or-treat alone. 65% of parents don't sit their children down to discuss Halloween safety.
Even if you do accompany your children and teach them Halloween safety, you cannot make up for the recklessness or negligence of another.
Practicing Halloween Safety
While you can't control the actions of others, you can take the necessary precautions to protect yourself and your loved ones as you head to the streets this Halloween.
Here are some tips to help you avoid Halloween pedestrian accidents:
Never let young children trick-or-treat alone.
If you allow older children to trick-or-treat by themselves, create a detailed plan that shows them where they can go and when they need to come home.
Make sure your children's costumes (and yours) have reflective material or another visual aid on them.
Always carry a flashlight.
Look both ways before crossing the street.
Be cautious when approaching a driveway, alley, or intersection.
Yield for cars.
Do not split from the group.
Walk on sidewalks. Always walk facing traffic.
Avoid distractions (such as texting).
Always have a safety discussion with your children before heading out.
Nobody wants to see their holiday fun end because of an accident. Pedestrian accidents are often devastating because pedestrians have little to no protection from vehicles. That is why it is so vital to follow these safety tips to keep you and your loved ones safe.
However, you cannot control the actions of drivers. Often, they act with negligence and cause pedestrian accidents, leaving you with severe injuries. Fortunately, the experienced pedestrian accident attorneys at The Green Law Firm can help. Contact us if you find yourself in a Halloween pedestrian accident.