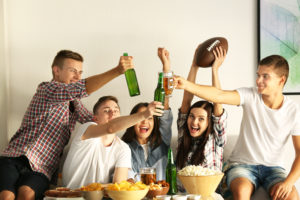 Super Bowl LIV is this Sunday in Miami, marking the end of another great NFL season. As the Chiefs and 49ers prepare to compete for the Lombardi Trophy, millions of Americans are preparing for Super Bowl Sunday, too. While the players and coaches are preparing for the biggest game of the season, Americans are stocking up on wings, nachos, beer, and other fun party favors for the game. Unfortunately, Super Bowl Sunday isn't all fun and games. Advocates note that the Super Bowl is the most dangerous day of the year for domestic violence, and we also see an increase in drunk driving accidents. According to Mothers Against Drunk Driving (MADD), more than two-thirds of all traffic fatalities on Super Bowl Sunday are caused by drunk driving.
If you are going to be watching the Super Bowl this weekend, you must do everything you can to stay safe. The last thing you want is to start the new year in an accident. Stay the night, take rideshare like Uber or Lyft, and remain aware. The attorneys at The Green Law Firm have seen firsthand how devastating Super Bowl accidents are for Brownsville residents. If you were injured, involved in an accident, or the victim of domestic violence this weekend, contact us immediately.
Our lawyers are prepared to help you understand your rights, and we will do everything we can to represent you. Depending on the nature of your case, recovering damages through a lawsuit may be necessary. The purpose of today's article is to take a closer look at Super Bowl Sunday accidents and why this day is so dangerous. If you're attending a Super Bowl party over the weekend, or if you are heading to Miami for the big game, do your part to stay safe and protect others.
Common Causes of Super Bowl Sunday Accidents
As mentioned, Super Bowl Sunday is more dangerous than many people realize. In 2018, 10,511 people lost their lives in drunk driving accidents. Given the fact many Super Bowl parties involve alcohol, it is no wonder we see a spike in drunk driving traffic accidents over this busy February weekend. To curb alcohol-related accidents, Mothers Against Drunk Driving (MADD) and the National Highway and Traffic Administration (NHTSA) have joined together to spread an important message about safety on Super Bowl Sunday. The program – Fans Don't Let Fans Drive Drunk – has garnered national attention and aims to encourage game-goers and party attendees to designate a sober driver or have another plan in place.
One of the most telling studies surrounding Super Bowl accidents dates back to 2003, but the numbers speak for themselves. According to the University of Toronto study, there is a 41 percent increase in vehicle collisions in the hours following the Super Bowl. The study looked at accident data from 27 different Super Bowl Sundays (1975 to 2001). What they found was shocking:
There was a 70 percent increase in accidents in the hour following the Super Bowl
There was a 10 percent drop in accidents when the game was airing
The number of crashes increased by 68 percent in the home state of the losing team
The number of accidents only increased by 6 percent in the home state of the winner
Accidents rose by 46 percent in "neutral" states
The average number of people killed in Super Bowl Sunday car accidents was 24 (up from 17 on "regular" Sundays)
The number of citations for repeat drunk drivers increases by 22 percent on Super Bowl Sunday
There are numerous reasons for this increase in accidents on the day of the Super Bowl, including:
Increased alcohol consumption
Driver fatigue
Driver distraction or inattention
Road rage
Bad weather
More people on the roads after the game
These are just a handful of the reasons we see an increase in accidents on Super Bowl Sunday. If you were injured in a drunk driving accident or because of another person's negligence over this busy weekend, contact The Green Law Firm today.
Domestic Violence and Super Bowl Sunday
According to one past study, there is a connection between the Super Bowl and domestic violence. Unfortunately, many cities experience a rise in domestic violence around the holidays, including in February and the Super Bowl. There are nearly five times as much domestic violence calls this time of year, leading experts to draw a link between the big game day and abuse cases.
Along these same lines, researchers found that watching the Super Bowl may be hazardous to your health in other ways. According to the New England Journal of Medicine, men's risk of having a heart attack was three times higher when watching their team play in the Super Bowl, compared to women who were two times as likely to suffer cardiac arrest.
If you were the victim of domestic violence, call the National Domestic Violence Hotline at 1-800-799-7233.
Tips for Staying Safe on Super Bowl Sunday 
If you are planning on enjoying the Super Bowl this weekend, plan ahead and do your part to reduce the chance of being involved in a DUI accident or other incident. Here are a few tips to help you enjoy the Super Bowl safely, while still having fun:
Designate a sober driver before the party starts
Pace yourself if drinking alcohol
Ask a friend for a ride home, call a cab, or request a rideshare service like Uber or Lyft
Stay the night
Don't let your friends drive drunk
Wear your seatbelt
Report any incident of domestic violence or abuse right away
Contact a lawyer if you experience an accident or witness domestic violence
The Super Bowl should be a fun and celebratory day, but it often turns deadly. If you are injured on Super Bowl Sunday, contact The Green Law Firm today. Our bilingual Brownsville attorneys offer free consultations and will do everything we can to support you. We hope everyone enjoys the game and stays safe this weekend!