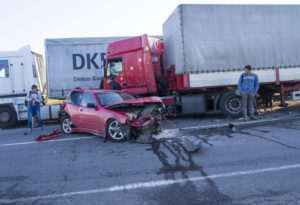 No matter the type of car accident, the aftermath is often devastating. Whether you suffered several injuries, experienced significant property damage, or must deal with mounting financial burden, these accidents often send you reeling.
For many, it can be hard to recover. After all, mounting medical bills, lost wages from needing time away from work, and emotional distress can leave an impact. Unfortunately, things are often more difficult following a truck accident.
While you typically only need to deal with a driver and their insurance policy in a regular passenger car accident, a truck accident is much different. There are many more parties at play. While the driver may be at fault, you will more than likely need to deal with the trucking company that employs them, as well as insurance companies.
The process of receiving the compensation you deserve is a much more complicated one in a truck accident. However, with the help of a trusted truck accident attorney, you put yourself in the best position to succeed. Give The Green Law Firm a call today if you were involved in a truck accident.
How Common Are Truck Accidents?
Truck accidents happen far more often than people realize, especially here in Texas. More and more people continue to move to Texas every day, and the trucking industry in the United States continues to grow. In fact, around 70% of all products reach their destination due to commercial trucks. With more trucks filling up the roads each year, these accidents can and will happen.
Truck accidents are often quite devastating, as well. Large trucks, whether a tractor-trailer or 18-wheeler, can weigh upwards of 80,000 pounds, stretching 70 to 80 feet. That is nearly 20 to 30 times heavier than a car and more than five times longer, so it is not surprising to see how destructive they are.
Here are some facts about truck accidents:
12,523 crashes involved a large truck or bus in Texas in 2019.
Texas is the deadliest state for truck accidents, with 462 people dying in 408 crashes in 2019.
In 2017, 4,761 people died in a truck accident.
72% of deaths were those in other vehicles.
18% were occupants in large trucks
10% were pedestrians, bicyclists, and other nonoccupants.
Trucks made up nearly 9% of all vehicles in fatal accidents.
There was a 12% increase in the number of fatalities in truck accidents between 2008 and 2017.
Truck Accident Causes
Truck accidents continue to increase with each passing year. They can occur for a host of different reasons, such as:
Mechanical failure
Poor vehicle maintenance
Failure to obey traffic laws, lights, and signs
Inclement weather
Poor road conditions
Driving under the influence of drugs or alcohol
Inexperience or inadequate training
Driver fatigue
Speeding
Improperly loaded cargo
Any of these factors or a combination of some can lead to a truck accident. With the number of these accidents increasing, it is vital to know what to do if you ever find yourself in a truck accident.
Potential Complications
All car accidents are devastating, but truck accidents are in a league of their own. Their sheer size causes them to do more damage than a regular passenger vehicle. These types of accidents are harder and more complex to litigate compared to passenger vehicle accidents.
Some complications you may encounter include:
Proving Fault: It can be hard to prove negligence in some cases. While the driver may be at fault, so too may the trucking company and the truck part manufacturer.
Recovery: Because of the nature of these accidents, the damages are often more catastrophic. Not only is the property damage worse, but so too are the injuries. Medical treatment and rehabilitation are often more extensive and costly.
Insurance: The insurance adjustors of truck drivers and trucking companies can be difficult to work with, and they often make a settlement offer that will not cover all your damages.
All of this is why it is vital to have the help of a trusted truck accident attorney like the ones at The Green Law Firm on your side.
Steps to Take
Nobody wants to be in an accident, especially not a truck accident. Unfortunately, these accidents do happen and to no fault of your own. When someone else's negligence causes you to suffer injuries, property damage, and more, they should be held accountable.
While having the aid of a truck accident attorney is crucial, there are some steps you should take to ensure your safety and the success of your claim.
Call the Police: A police officer will come to the scene, collect witness statements, and complete an accident report that will preserve your evidence.
Seek Medical Attention: Regardless of if you think you are okay or not, you should always seek medical attention following an accident. Many injuries do not make themselves known until much later after an accident. By seeing a doctor, you can properly document your injuries and the treatment you will need.
Take Photos: Take as many photos of the accident as possible. Also, take pictures of your vehicle and the truck, as well as the entire scene of the accident. Do not forget to take photos of your injuries, as well. Use multiple angles and closeups to document it better.
Collect Information: You should always collect the information of the truck driver, including their name, license plate number, driver's license number, insurance information, phone number, and other contact information. Also, collect information from eyewitnesses, such as their statements and contact information.
Get Your Vehicle Appraised: While your vehicle may not show much damage, you should still get it appraised. Some issues might not be apparent right away. The appraisal should be done before repairs so that the repair estimate can be a part of your insurance claim.
Contact a Truck Accident Attorney
Each year, more commercial trucks hit the roads, delivering goods across the country. Unfortunately, as the number of trucks increase, so does the risk of a truck accident. These accidents are far more complicated than accidents with passenger vehicles.
With the help of a trusted truck accident attorney, you can receive the compensation and justice you deserve. If you were involved in a truck accident, contact The Green Law Firm today.