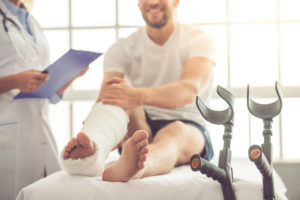 Every day, millions of people suffer injuries in accidents. From car accidents to pedestrian accidents, accidents can occur for a host of reasons and causes. Some only result in minor injuries, such as cuts and bruises. However, some cause significant injuries and even death.
Regardless of the type of accident, all individuals involved should seek medical attention immediately after the accident. In many cases, injuries do not make themselves known until well after, often taking several weeks to appear.
When individuals do not receive treatment right away, it can lead to further complications. To make matters worse, because the injuries were not properly documented at the time of the accident, it becomes increasingly difficult to receive compensation for them.
As a premier personal injury law firm, the team at The Green Law Firm understands the importance of seeking medical attention after any accident. Not only will you be able to receive the medical treatment your injuries require, but you also put yourself in a better position to recover damages.
If you find yourself in an accident of any kind, contact The Green Law Firm and let us help you recover the damages you deserve.
Most Common Accidents
According to the Center for Disease Control and Prevention (CDC), Americans spend more than one million days in the hospital due to injuries sustained in car accidents. Over 2.5 million people went to the emergency room, with nearly 200,000 requiring hospitalization. These are only numbers for car accidents. It does not take into account accident types such as premises liability accidents or defective product cases.
That means the amount of hospitalizations is much higher. Some of the most common accidents that lead to injuries include:
Car accidents
Slip and fall accidents
Defective products
Medical negligence/malpractice
Pedestrian accidents
Construction accidents
These are just a handful of accidents that occur daily in the U.S. These injuries can range from minor to severe, depending on the seriousness of the accident. Some of the most common injuries include:
Cuts, bruises, and contusions
Concussions
Broken bones
Whiplash
Spinal injuries
Traumatic brain injuries (TBI)
Post-traumatic stress disorder (PTSD) and other mental health issues
Internal bleeding
Sprains and strains
Death
In 2018, there were roughly 167,127 deaths involving unintentional injuries or accidents, making them the third leading cause of death in the U.S. As you can see, these injuries can vary. Some are minor, while others can be life-threatening. It's vital to seek medical attention right after your accident to ensure you receive the treatment you need.
The Importance of Seeking Medical Attention
As we have stated various times throughout this article, you must seek medical attention after an accident. Depending on the circumstances, you might not think you suffered any significant damage during an accident. Often, the adrenaline coursing through your body prevents you from experiencing the full extent of your injuries.
In other instances (such as in construction and workplace accidents), you might be persuaded by your employer or some other person of power to downplay your injuries to prevent you from going to a hospital. They do this to keep you from having your injuries documented, which makes it virtually impossible for you to recover damages for them.
Some injuries are apparent right away. Broken bones, cuts and bruises, and sprains and strains are easy to recognize shortly after an accident. However, injuries like whiplash, internal bleeding, and TBI do not always make themselves known right away. It often takes several days or even weeks for them to affect you.
While minor injuries can heal on their own, more serious injuries require more extensive treatment. If you delay this treatment, you could reaggravate the injury or make it worse. You could also extend the recovery time needed to heal.
In that span, these injuries can worsen, causing you significant pain and even threatening your life. Receiving treatment early is the best way to prevent any serious issues from occurring. However, outside of protecting your health and safety, seeking medical attention has further benefits to you and your case.
Medical Records as Evidence
In many accidents, someone else is to blame for the injuries a victim suffered. Often, it is this person's negligence or recklessness that led to the accident in question. In these instances, you can hold these individuals accountable for their actions and recover damages. However, to do that, you must have documented proof of these injuries.
Medical records are one of the main pieces of evidence your personal injury attorney will use to help you prove your case and recover the damages you rightfully deserve. However, if you postpone medical treatment, the at-fault party's insurance company might reject your claim because you waited too long to treat your injuries.
Insurance companies look for any reason to save money. If you delay treatment, the insurance adjuster might claim your injuries were not that serious, or else you would have sought treatment earlier. They might also argue that your injuries did not occur in the accident, claiming that you did something after the accident that caused these injuries yourself.
That is why it is paramount to seek medical attention immediately after your accident. It ensures that a doctor documents your injuries, proving that the accident in question was the cause of your injuries. Your attorney will use these documents as integral proof in your claim to ensure that you can prove the at-fault party is to blame for your injuries, putting you in a better position to recover compensation.
Contact a Brownsville Personal Injury Attorney
Even the most careful person in the world cannot prevent all accidents. While you can ensure that you take all the steps to protect yourself, you cannot control the actions of others. Often, someone else's negligence or recklessness causes an accident. These accidents tend to result in various injuries, ranging from minor to severe.
To recover compensation from the at-fault party or their insurance company, you must prove that injuries occurred because of the accident. That all relies on seeking medical attention. Even if your injuries seem minor, you should always get treatment. Without it, you not only put your health at risk but also the success of your case.
If someone else's negligence led to you sustaining injuries in an accident, give The Green Law Firm a call today and let us help you receive the compensation you deserve.