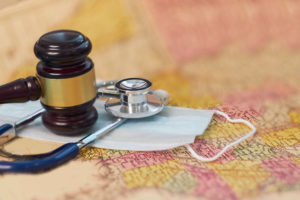 COVID-19 has impacted virtually every aspect of human life. From schools and movie theaters to gyms and grocery stores, safety procedures and policies are in place to keep communities safe. While some industries have felt the effect of the ongoing global pandemic more than others, all businesses felt COVID-19's impact, even the legal industry.
Much of the legal process involves meeting face to face, whether that is meeting with clients, other attorneys, judges, expert witnesses, or anyone else involved in legal proceedings. In many cases, people are always in close proximity with one another throughout the legal process. As you can imagine, being so close to one another puts everyone at risk.
Naturally, to keep everyone safe and follow safety guidelines, the legal industry has had to adapt. COVID-19's impact has forced courts, attorneys, and clients to make changes to ensure everyone's safety. Unfortunately, not everyone has had an easy time adjusting to these many changes. In fact, many people don't know what kind of impact COVID-19 has had on the legal process.
The Green Law Firm has endured throughout the ongoing global pandemic. We have had to adapt with the times to keep our staff, clients, and community safe. We understand COVID-19's impact on the legal industry, and today, we intend on explaining some of those changes that had to be made.
Working In-Office 
As with many industries, many law firms within the legal industry have shifted to remote work, aiming to keep their employees as safe as possible. While many law firms are still working remotely, some have slowly begun to open their doors. Many law firms have been efficient while working remotely, but there is an advantage to working in the office.
Some cases require in-person meetings to go over sensitive and complex legal matters. In these instances, social distancing is required to keep everyone safe. Some firms have even taken a rotational approach, ensuring that only a limited number of people are in the office at all times. Doing so provides a firm with a level of stability and consistency that they've missed throughout the pandemic.
However, whether an office is closed or partially open, clients still need to meet with attorneys to discuss legal matters. Unfortunately, due to COVID-19, these consultations have also changed.
Legal Consultations 
Throughout this pandemic, many law firms have remained open, along with The Green Law Firm. However, in order to provide our legal services safely, we have had to take the necessary precautions to assist our clients safely. While our office has remained open with only essential personnel in the office, we have kept our doors closed to the public unless completely necessary.
As you can imagine, the process of consulting with our clients has drastically changed. Typically, we would meet with our clients in the office to discuss their case. However, to keep our clients and team safe, we have been conducting these consultations remotely. While it might not feel the same, we can still efficiently aid you via video calls, phone calls, and e-mails. Remotely consulting with clients allows us to continue to help them without putting anyone in danger.
The legal industry is full of practitioners that are reluctant to work with new technology. However, the ongoing pandemic has forced their hand, introducing these individuals to the benefits of videoconferencing, telework, paperless processes, and much more.
Courts
While attorneys have had to adapt to working with their own team and with clients, courts have also had to make some changes. Courthouses see a constant influx of people every single day. Countless people from all over the area come to and from a courthouse to litigate their legal issues. At that rate, it is virtually impossible to trace who everyone entering the building has come in contact with and where they have been.
Courts at every level have had to respond to this crisis quickly. Many courts have had to postpone or outright cancel legal proceedings in response to the threat of COVID-19. Some courts have restricted jury trials while others have ended them entirely. Many courts have granted extensions for court deadlines, including deadlines for fees and fines.
In an effort to save on time and resources, many courts have begun to prioritize some cases over others. For example, courts will likely address criminal bond hearings and child custody cases before nonessential cases, such as evictions and workers' comp cases.
However, much like law firms are doing for consultations, some courts have tried to overcome the obstacles they face by using videoconferencing for judges, juries, attorneys, expert witnesses, and anyone else involved in the legal proceedings.
Even when the situation with the pandemic improves, courts and law firms might continue to stick with remote work. After looking at travel costs and their savings from working remotely, these practices might continue in the future.
Takeaways
As you can see, COVID's impact on the legal system can be felt on every level, from national to state and local. Courts and law firms have had to adjust how they operate during these times. Because face-to-face interactions are such a crucial part of the legal process, these changes naturally disrupt this process.
Fortunately, many law firms have been able to continue working, thanks in large part to new telecommunications, e-mails, and other technologies that have allowed them to stay in contact with courts and clients. While many law firms have been reluctant to rely on technology, COVID-19 has forced their hands.
Courts have had to suspend in-person proceedings, often postponing or canceling hearings. Courts are hearing fewer cases altogether. The Supreme Court of Texas has issued several emergency orders that provide steps that law firms can and should take, which you can find on the Texas Bar's website.
In these challenging times, it pays to have the help of an experienced and prepared attorney on your side. That's where The Green Law Firm comes in. Our team of attorneys has stepped up to the challenge and made the necessary changes to continue providing our clients with premier legal representation. We understand these are difficult, which is why we are here to help ease the stress. Give us a call today to learn how we can help you with your legal needs.