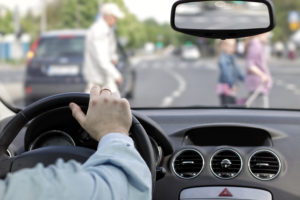 Unfortunately, accidents can and do happen. Even if you are the most careful person in the world, you cannot control the actions of others. When someone is negligent or acts without caution, they can be responsible for a host of accidents and injuries. People are often aware of common accidents, such as car accidents, drunk driving accidents, slip-and-fall accidents, motorcycle accidents, and large truck accidents. Pedestrian accidents are accidents that do not receive as much recognition as many would think, but these accidents happen more often than people realize.
Pedestrian accidents are particularly devastating because they often involve individuals who don't have the protection of a vehicle. They are out in the open, often suffering serious injuries and even death. Cars and trucks strike pedestrians at high speeds and cause unthinkable damage. These accidents should be treated with the highest level of care and respect to ensure that the victim receives proper compensation.
Unfortunately, pedestrian accidents occur far too often. These accidents result in severe injuries and are often fatal. We want to ensure that everyone understands pedestrian accidents and know what to do if they find themselves the victim of one. If you suffered an injury in a pedestrian accident, contact The Green Law Firm today and let us fight for the justice you deserve.
Pedestrian Accident Statistics
Regardless of your mode of transportation, everyone is a pedestrian at one point or another. When you park your car and walk into a store or when you go for a run, you are a pedestrian. While walking from point A to point B is both good for your physical health and the environment, it does come with inherent risks. You can take all the necessary precautions and obey all traffic laws, but the moment the driver of a vehicle is reckless or negligent, your life may be in danger.
Pedestrian accidents happen more often than we would like. To help you understand the seriousness of these accidents, we gathered a list of pedestrian accident statistics:
In 2018, 6,283 pedestrians were killed in traffic accidents, which was a 3.4% increase from the year prior.
On average, a pedestrian died in a traffic accident every 88 minutes in 2017.
Texas ranks 14th in pedestrian fatalities per 100,000 people.
70% of those killed in traffic accidents were men.
Pedestrians, bicyclists, and other nonoccupants made up 20% of all traffic fatalities in 2018.
47% of crashes that lead to pedestrian deaths involved alcohol.
In 2017, roughly 137,000 pedestrians sought treatment from an emergency room for injuries suffered in non-fatal crashes.
As you can see, these accidents are often fatal. The sheer size of a vehicle, regardless of if it were a passenger vehicle or truck, dwarves the size of a pedestrian. These individuals have little to no protection, so they often experience the full force of the collision. A pedestrian accident case can be complicated, which makes it that much more crucial to have the assistance of an experienced pedestrian accident lawyer on your side.
Duty of Care.
It is crucial to remember that both the pedestrian and a driver can be at fault in these situations. Each party has a duty of care they must follow.
Driver's Duty of Care: When a driver receives their license, they agree to practice caution and safety when behind the wheel of a vehicle. They agree to obey traffic laws. If they do not drive with reasonable care and cause an accident, this is known as negligence. Some factors involved in negligence include distracted driving, driving under the influence of drugs or alcohol, speeding, failing to yield for pedestrians, or disregarding traffic signs.
Pedestrian's Duty of Care: Pedestrians must also exercise reasonable care for their own safety and those around them. If a pedestrian is not careful, and they suffer an injury, contributory negligence may come into play. Factors that play into this negligence include ignoring traffic signs or a walk signal at a crosswalk, entering traffic, jaywalking, or running in front of a vehicle.
Causes
As with most accidents, a variety of things can lead to a pedestrian accident. While both parties can cause an accident, most pedestrian accidents occur as a result of the driver's negligence. Unfortunately, drivers can be distracted by many things when driving, but these distractions are no excuse. Some common causes of pedestrian accidents include:
Distracted driving (being on their phone, applying makeup, eating, etc.)
Driving while under the influence of drugs or alcohol
Improper lane use
Speeding
Failing to yield for pedestrians at crosswalks
Ignoring traffic signs and lights
Unmarked or poorly marked crosswalks
Left-hand turns
Dark clothing
Regardless of the cause of the accident, they often result in serious injuries and even death. If you find yourself a pedestrian accident victim, contact a pedestrian accident attorney like the ones at The Green Law Firm.
Pedestrian Safety
Due to the sheer force behind a car, truck, or another vehicle, these accidents are often devastating. While there are traffic laws in place to protect all drivers and pedestrians, it may not be enough. However, there are various things that both drivers and pedestrians can do to keep each other safe.
Pedestrians:
Obey all traffic signs and signals.
Whenever a sidewalk is available, always walk on it.
If one is not available, walk facing traffic and as far from the road as possible.
Eliminate distractions like phones. Stay alert and keep your eyes on the road.
If you need to cross the street, use a crosswalk or intersections where drivers most expect pedestrians.
If one is not available, cross at a well-lit area that gives you and drivers the best view.
Be visible at all times. If walking at night, wear bright colored clothes or reflective material.
Keep an eye out for cars exiting or entering driveways or parking spots.
Never walk while under the influence of drugs or alcohol.
Drivers:
Never drive under the influence of drugs or alcohol.
Eliminate all distractions, such as phones, food and drinks, or applying makeup.
Always follow the speed limit.
Obey all traffic signs and signals.
Yield for pedestrians at crosswalks. Stop a good distance away from crosswalks to give pedestrians space.
Practice caution whenever backing up.
When driving at night, stay alert and always drive with your headlights on.
Slow down or be prepared to stop when turning on or approaching a crosswalk.
Keep your hands on the wheel, eyes on the road, and mind on driving at all times.
People often decide that walking to and from places is the best mode of transportation for them. Whether they want to be more active or environmentally conscious, they deserve to walk around safely. Unfortunately, accidents can and do happen, and accidents involving pedestrians lead to serious injuries and even death. If you or a loved one suffered an injury in a pedestrian accident, contact The Green Law Firm to get in contact with an experienced pedestrian accident attorney.