Texas Bus Accident Lawyer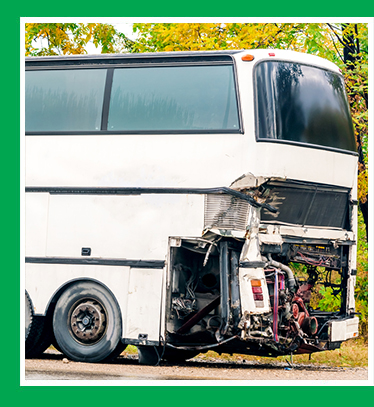 Accidents involving school buses or public transportation buses often result in serious injuries that rack up huge medical bills. Every year in the United States hundreds of passengers, pedestrians, and other motorists in Texas suffer serious injuries – or worse – from bus accidents. While bus drivers and operators have a duty to navigate the roadways safely and without distraction, this is not always the case. Due to the sheer size of school and public transportation buses, these types of accidents can leave victims with severe injuries that require years of rehabilitation and recovery. Many victims of bus accidents leave the scene confused and not sure how to proceed, which is why these types of incidents are not always taken to court. However, victims of bus accidents deserve compensation and for the emotional trauma they suffered to be recognized.
By Texas law, bus line operators have a heightened duty of care and are required to get their passengers to and from their destination safely. The majority of bus accident lawsuits that we handle are based on negligence on the part of the driver or operator. Because these cases are rather complicated, it is important you are working with an attorney that has experience with pursuing bus accident lawsuits in Laredo. There are a handful of crucial elements that need to be addressed and proven in order for a bus accident lawsuit to be successful, including:
The operator acted negligently, resulting in injury
The operator breached their duty of care, resulting in the accident
The plaintiff suffered actual and serious injuries from the accident
Our Brownsville bus accident attorneys understand that the above needs to be proven in order for a bus accident case to move forward and will do everything we can on your behalf.
Common Injuries from Bus Accidents
The majority of accidents involving buses result in serious injuries to passengers, pedestrians, and other drivers. Unfortunately, many victims of bus accidents are children, making these cases even more difficult. Some of the most common injuries that we see from bus accidents include:
Lower back injuries, such as slipped discs
Whiplash
Neck injuries
Spinal cord injuries
Traumatic Brain Injury (TBI)
Cuts, bruises, and lacerations to the face
Broken nose
Dental injuries
Broken bones, including fractures to the ankle, knees, and wrists
Seek Compensation for Your Bus Accident Injuries Today
By Texas law, victims of bus accidents are entitled to financial restitution for all injuries and damages suffered. The amount of compensation an individual will receive will be based on several factors, including:
The type of injuries suffered
Medical, hospitalization, and rehabilitation costs
Mental anguish and suffering
Recovery of lost wages due to being unable to work
Recovery for loss of any future earnings resulting from long-term or permanent disability
The Federal Motor Carrier Safety Administration states there are more than 80,000 reported bus accident every single year in the United States. Of these accidents, more than 23,000 people suffer serious injuries. These numbers show that people are getting needlessly hurt in bus accidents that are often preventable. If you or a loved one has been injured in a bus accident, or if you lost a loved on in a bus accident, please contact Green Law Firm today. Our experienced Brownsville bus accident attorneys are here for you and are ready to fight for your rights.