Drunk Driving Injury Attorney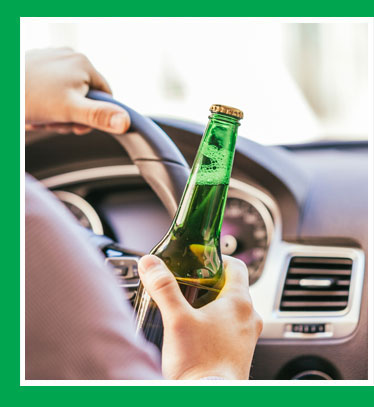 Did you suffer injuries in a car accident because of a drunk driver? If so, you may be able to seek compensation for your injuries and any damages incurred. Individuals who get behind the wheel of a vehicle while under the influence of alcohol not only pose a danger to themselves, but to other drivers, pedestrians, and cyclists. Drunk driving is a serious problem in the United States, resulting in countless accidents, injuries, and even deaths. While we all make mistakes in life, getting behind the wheel of a car when under the influence of alcohol is one of the worst decisions anyone can ever make. In many cases this choice results in life-changing, deadly accidents.
Individuals who make the decision to drive drunk should be held accountable for their actions. Texas law prohibits a person from drinking and driving. If you or a loved one has sustained injuries due to the negligence of a drunk driver, we encourage you to contact Green Law Firm. Our team of personal injury lawyers understand how devastating these types of accidents can be and are prepared to represent you in a court of law. Our Laredo attorneys will work on your case right away, addressing legal matters surrounding your case and doing everything we can to ensure justice is served.
Understanding Your Rights
Approximately 1.5 million people are arrested every single year in the United States for driving under the influence of alcohol. This may come as a shock to some, but to those who have been affected by a drunk driver, this statistic is all too real. Sadly, nearly 34 percent of all individuals killed in drunk driving accidents are between the ages of 21 and 24.
The drunk driving injury attorneys here at Green Law Firm strive to do everything we can to help our clients receive compensation and justice for their injuries. We not only represent other drivers and their passengers, but pedestrians, cyclists, and anyone else who has been affected by a drunk driver. In the event you lose a loved one to a drunk driver, our personal injury lawyers are prepared to represent the grieving family members.
Contact Green Law Firm Today
We understand you probably have a lot of questions pertaining to your drunk driving injury case, and we are here to help. Our experienced drunk driving injury attorneys are prepared to sit down with you and go over your case to ensure you understand your rights and how to proceed. We know how difficult these types of cases can be – on both the victims of drunk driving accidents and their loved ones – which is why we are dedicated to taking the burden off of your shoulders. Whether you have sustained life-changing injuries because of a drunk driver or lost a loved one, contact Green Law Firm today so that we can help.