Texas Car Accident Attorney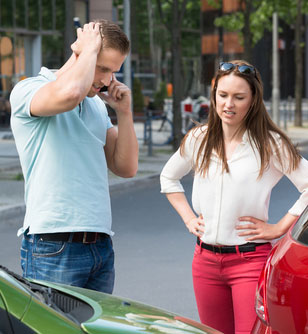 Being involved in a serious car accident is never fun, especially if you were not at fault. Texas has one of the highest number of car accidents in the nation, from minor fender benders to more serious collisions. Due to the high volume of drivers on the roads and the many distractions that plague drivers today, it should come as no surprise that there are accidents every single day, hour, and minute. Car accidents are not only stressful for all parties involved, but they can be quite complicated, depending on the circumstances. We understand that an auto accident can forever change your life, resulting in mounting medical bills, emotional damages, and other expenses that can be a huge burden on you and your loved ones.
Every year more than 2.5 million people are injured in car accidents throughout the United States, and 41,000 people lose their lives in preventable accidents. Even though automakers are focusing on enhanced safety features and there are numerous PSAs about the dangers of driving while texting, talking on the phone, or succumbing to other distractions, our roadways are becoming increasingly unsafe. Victims of car accidents suffer a wide range of injuries, from minor whiplash and concussion to internal injuries and life-threatening injuries. Sadly, many people also lose loved ones in car accidents that could have been prevented.
About Car Accidents
Statistics indicate that the majority of car accidents in Texas occur in urban areas, such as Brownsville, Laredo, and the surrounding areas. However, we also see many serious accidents take place in rural areas, many of which often involve large trucks or farm equipment. There are many large highways that crisscross throughout this part of the state, making the risk of an accident taking place much higher. While state efforts aim to make drivers aware of the potential dangers on the roadways, accidents still happen on a regular basis.
There are many different types of car accidents, some of which include:
Rear end collisions – This is the most common type of traffic accident and occurs when one car crashed into a car in front of it. Many of these accidents result in minor fender benders, but depending on the speed of the cars, they can be much more serious
Side impact collisions – These types of accidents are also called "t-bone" collisions or "broadsided" and happen when the side of one car is hit by the front or back of another
Sideswipe collisions – These types of accidents happen when the sides of two cars brush or "swipe" one another
Head-on collisions – When the front ends of two cars hit one another, it is referred to as a head-on collision. These are some of the most serious car accidents there are and often result in death
Rollovers – When a vehicle flips over onto its side or roof, it is considered a rollover. Rollover accidents typically happen at high speeds when a vehicle makes a sharp turn and loses control
Single-car accidents – These types of accident take place when just a single car is involved and strikes another object, such as a pole, tree, fire hydrant, or pedestrian
Multi-vehicle collisions – Also called multiple vehicle pile-ups, these accidents often involve numerous vehicles and typically occur on highways or freeways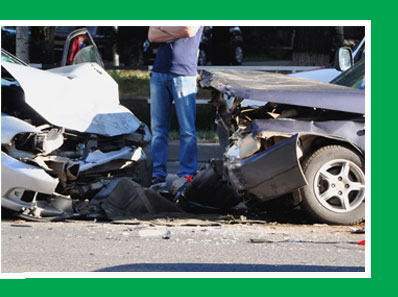 These are just a few of the most common types of car accidents we see in Texas. If you have been involved in a car accident that was not your fault or lost a loved one due to another person's distracted driving, please contact Green Law Firm today. We understand how emotionally challenging these types of cases can be and will do everything in our power to fight for your rights. There are far too many distractions on the roadways today, which are unfortunately resulting in other drivers losing their lives. To schedule a consultation or learn more about our Laredo car accident attorneys, please contact us today.