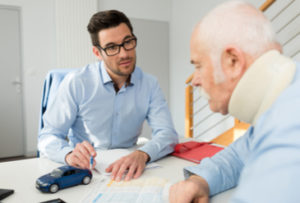 Choosing the right personal injury lawyer for your specific case isn't always easy. If you've never hired a lawyer before, this task can be even more intimidating. These days most people take to Google in search of pretty much everything, including a lawyer. While you may be tempted to simply go with the first law firm that pops up in your area, it is important for you to do a little bit of research before you settle. In most cases, lawyers specialize in certain areas and are better suited for some cases other than others. Although you may also be inclined to simply go with the lawyer that offers the lowest fees, this may come back to bite you down the road. Make sure you go with an attorney that is highly experienced and specializes in a particular field, and one who has a high success rate. These are the lawyers that have a proven track record of achieving larger compensation rewards for their clients, which is your overall goal, right?
We understand how intimidating the legal system is and how confusing it seems. This is why you need legal representation that will have your best interests in mind. If you have been involved in a hit and run accident in Brownsville or some other accident within the personal injury umbrella, give Green Law Firm a call so we can get started on your case. In order to ensure you get the outcome you want and deserve, take the following 6 steps into consideration when choosing a personal injury lawyer:
● Check their experience – Probably the most important factor when choosing a personal injury lawyer is how experienced they are. It is important to never underestimate the value of experience when searching for a lawyer to represent you. Hiring a personal injury lawyer with a lot of experience in your area means they will know how to investigate your case, what to look for, and where to look for it.
● Pay attention to their specialization – Similar to the above, finding a lawyer who specializes in the area of law you are in need of help with is a huge bonus. If you've been involved in a hit-and-run accident, for example, your best bet is to go with a lawyer who has represented their fair share of car accident victims.
● Look into their reputation – If possible, look for any public news articles, periodicals, and other information about your attorney. Have you been involved in any high profile cases? Do they give back to the community?
● First impressions are everything – If and when you meet with an attorney, pay attention to what your first impression of them is. Do you have good professional chemistry? Are they a good listener? Do you feel like they are genuine? These are all things to consider following your first face-to-face meeting.
● Do they offer a free consultation? Always go with a lawyer who offers a free initial consultation. This will be your introductory meeting and you should never be charged for this. If the attorney you are thinking about going with charges for this meeting, you may want to reconsider.
● Ask questions – When you do meet with any potential lawyers, don't be afraid to ask questions. Inquire about their qualifications, experience, number of cases in your area of need they've handled, and how they plan to handle your case.
Please give Green Law Firm a call to schedule a free consultation with one of our Brownsville lawyers. We are happy to answer any questions you may have and help you find the right attorney for your case.