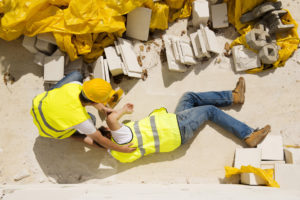 It is no secret that the construction industry is one of the most dangerous out there. Every single day, thousands of construction workers put themselves at risk, simply by showing up for work. Many things can go wrong on a construction work site, from debris falling from upper stories to machinery not working properly. In many cases, construction injuries occur when the safety engineers and safety programs put in place are either neglected or absent altogether. Regardless of the cause or nature of the construction injury and the accident that caused it, the worker is entitled to some sort of compensation.
A shocking one in five workplace fatalities in the United States involves construction workers. Typically, when a construction worker is injured on the job, he or she cannot sue their employer for work-related injuries. Worker's compensation is in place to protect construction workers and employers alike, which can make accidents on work sites rather complicated. Even if a worker is injured because of a mistake they made themselves, they may be able to seek compensation through the Workers Compensation Act (WCA). To learn more about your rights following a construction site accident that resulted in serious bodily injury, or worse, please contact the Laredo personal injury lawyers at Green Law Firm today.
Most Eye-Opening Construction Accident Statistics
The construction industry is constantly changing and developing in an attempt to keep up with new safety protocols and the digital age. To help you better understand the dangers that construction workers face on a daily basis, let's look at some of the most eye-opening, shocking statistics concerning construction accidents:
One in ten construction workers are injured every single year in the United States, according to the Occupational Safety and Health Administration (OSHA)
The average construction worker has a 45-year career, during which he or she has a 1 in 200 chance of dying
The leading cause of fatal construction injuries are falls
Fall protection is the most violated OSHA standard and a top contributing factor to accidents and injuries
Ironwork is the job within the construction industry with the highest rate of injury
There are approximately 150,000 construction site accident injuries every year
Construction workers between 25 and 34 years old are the most likely to be injured in a construction site accident
The most common injuries construction workers sustain involve their backs, spines, and trunks
The year with the most recorded fatal injuries in construction occupations was 2015
Sixty percent of all construction workplace injuries take place within the employees' first year of work
Fifteen percent of all lead poisoning deaths in the United States involve construction workers
If you have been injured or lost a loved one in a construction site accident in Laredo or the surrounding areas, please contact Green Law Firm today. Our experienced personal injury lawyers will sit down with you to discuss your case and answer any questions you may have about your rights to compensation.