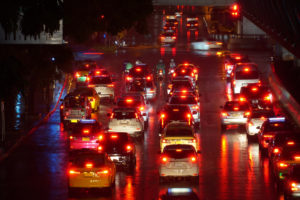 According to the National Highway Traffic Safety Administration (NHTSA), two of the deadliest days of the year are December 23rd and 24th. Unfortunately, while the holidays bring cheer and joy to many, they are also quite dangerous, especially for travelers. Not only do many people hit the streets more often to get that holiday shopping in, but people travel to visit friends and family both near and far. The increased number of cars on the roads is just one of the reasons why we see more car accidents this time of year than any other season.
In a study published by the University of Alabama Center for Advanced Public Safety, there is a six-day period at the end of December (including Christmas Day) that shows there are 18 percent more accidents than both Thanksgiving and New Year's Day. There are numerous factors that contribute to just how deadly the holiday season is, including bad weather and an increase in drunk drivers. In fact, the U.S. National Institute on Alcohol Abuse and Alcoholism (NIAAA) reports that more than 40 percent of all traffic-related deaths during the holidays can be attributed to drunk driving.
Let's now take a more in-depth look at why the holidays are so dangerous and what some of the top factors that increase the chances of being involved in a car accident are:
Increased Traffic – As mentioned briefly earlier, one of the main reasons why we see more car accidents this time of year than any other season is because of the high volume of cars on the roads. Not only do people travel during the holiday season, but they are running more errands than usual, making for more cars on the roads.
Driving While Buzzed or Drunk – The holidays are a festive time of year full of holiday parties and get-togethers. Because of this, the holidays also seem to be a time of overindulgence and making poor decisions. Unfortunately, many people get behind the wheel after "just a few", thinking they are fine to drive. Buzzed driving also carries serious consequences, including devastating injuries and deaths. These days there is no excuse for driving buzzed or drunk, as there are numerous rideshare services out there aimed at getting you home safely.
Stress Leads to Accidents – Even though we all love the holidays, this time of year can be quite stressful. From the stress of coordinating holiday events to shopping and making sure you make it to all the parties, stress can take a toll. If you are stuck in a holiday traffic jam or trying to get to your next destination on time, there is a chance you won't be thinking about safety as much as you should.
Neglecting Regular Car Maintenance – It is much easier to stay on top of all your vehicle's when the busy holiday season isn't here. Sadly, neglecting regular car maintenance and ignoring potential problems can lead to car accidents this time of year.
We encourage you to do your part in helping yourself and others stay safe while out driving this holiday season. The NHTSA has deemed December 1-11 "Buzzed Driving is Drunk Driving" awareness week, which is just one of the many campaigns out there aimed at raising awareness about how dangerous this time of year can be. If you have been involved in a car accident this holiday season, please do not hesitate to contact Green Law Firm.