What to do following a car accident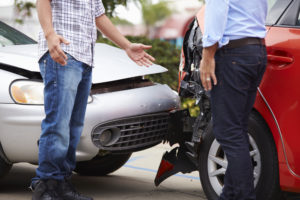 If you have been involved in a car accident, you likely know just how stressful the situation can be. Not only must you make sure no one is injured but contacting the police and getting your vehicle out of the road can be anxiety-inducing. Regardless of how safe of a driver we think we are, there's a good chance you will be involved in some type of car accident during your lifetime. Whether you've been involved in a minor fender bender or a more serious collision, knowing what to do in the aftermath can benefit you in many different ways. Not only can it help you stay calm, but it may also make a difference, should the case go to court.
With that in mind, here are five steps you should take immediately following a car accident:
Step #1: Remain at the scene of the accident – First and foremost, you should never under any circumstances leave the scene of an accident. Doing so could result in serious criminal penalties, including jail time. If any involved has sustained an injury, be sure and call for medical help while you wait at the scene.
Step #2: Check for injuries – Before you look at your vehicles to assess the damage, make sure all drivers, passengers, motorcycle riders, and pedestrians are safe and free of injury. If anyone is injured, be sure and call for an ambulance right away.
Step #3: Call the police – Once you've called for medical help, dial 911 and inform the police there's been an accident. When they arrive on the scene of the accident, be sure a police report is filed, and you obtain the names and badge numbers of all responding officers. Never admit fault to the police at this time, as they could hurt you down the road in a lawsuit. Stay calm and give them only the facts of the accident.
Step #4: Exchange information with any other drivers – While at the scene of the accident, be sure and get the names, numbers, addresses, license plate numbers, and basic insurance information from any other drivers. If there are any witnesses to the accident, it may be helpful to collect their information as well. Again, never say "I am sorry" or admit fault in any way, as it could make you legally liable for the accident.
Step #5: Contact an attorney – Depending on the accident and the circumstances surrounding it, you may want to contact an attorney. An attorney will be able to tell you if you have a case on your hands and, if so, what types of damages you may be able to recover.
Here at Green Law Firm, we strive to provide our clients with the tools they need to protect themselves. We understand that car accidents happen all the time, resulting in serious injuries and death. If you have been involved in a car accident, we encourage you to give us a call today to learn about your rights. If another party was at fault for the accident, you may be able to seek compensation for your damages.