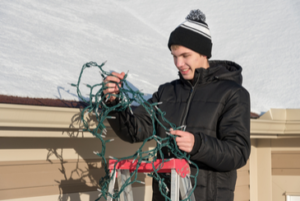 The holidays are here, which means it's time to get those lights up and make sure the tree is perfectly decorated! Seasonal decorations are a great way to get into the holiday spirit and bring joy and cheer to the whole neighborhood. However, when proper safety precautions aren't taken, homeowners put themselves at risk of injury. According to the U.S. Consumer Product Safety Commission (CPSC), there are more than 15,000 injuries related to holiday decorations each year. While many are minor, about 250 people go to the ER daily with injuries from falls related to holiday decorating. It is important to take every safety precaution you can to ensure you don't wind up a statistic. The holidays are supposed to be a time of year filled with joy and happiness, and the last thing your family needs is to have a decorating injury on their hands.
From making sure your indoor holiday lights aren't creating a fire hazard to taking extra care when climbing up on a ladder and putting the lights on your house, make sure you are doing everything you can to stay safe this year.
To ensure you and your loved ones have a happy and safe holiday season, here are a few tips to keep in mind:
Make sure live trees are far away from heat sources – If you get a live tree, be sure to place it away from any fireplaces or heaters. Always keep a fire extinguisher in your house near the tree as an extra precaution. Live trees are extremely flammable and can catch on fire in a matter of seconds, so be smart about your placement this season.
Check your light strands for frayed wires or cracks – Before you put your lights up, make sure there aren't any dangerous frayed wires or cracks. This could lead to a hazard and potentially catch on fire.
Keep ladders away from power lines – When decorating outside, be sure and place your ladder and all decorations away from overhead power lines. Before climbing up on the ladder, make sure it is securely placed on the ground. If you have someone to spot you, even better.
Pay attention to burning candles – Many people light candles during the holidays, which can add ambiance and holiday cheer, but also pose a fire risk. Make sure you extinguish all candles before going to bed or leaving the room or house.
Never hammer tacks or nails into the electrical cord – When attaching lights to the outside of the house, make sure you use safety clips to attach them. Never hammer into a plugged in electrical cord.
Use a timer to turn off lights – If possible, use a timer to turn off your holiday lights, both inside and outside. This will prevent you from accidentally forgetting and causing a fire hazard.
Make sure your indoor lights don't touch drapes or carpeting – Keep indoor lights away from any potentially flammable sources, such as drapes, furniture, carpet, and blankets.
Put cords in low-traffic areas – Prevent tripping and potential injuries by placing cords and decorations in low-traffic areas. Be sure and warn your family members about any cords that may be in the way.
Keep you and your loved ones safe this holiday season by taking extra care when putting up lights and decorations. If you happen to sustain any injuries from a fall, please contact our Brownsville personal injury lawyers today.