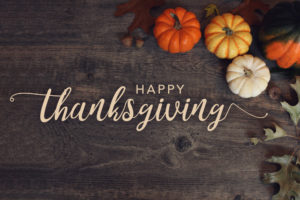 Ready or not, Thanksgiving is this week. For many of us, this means getting together with friends and family and sharing an abundance of delicious food. Unfortunately, Thanksgiving is also one of the biggest holidays for accidents and injuries. Some of the most common accidents we see take place during this festive holiday include motor vehicle crashes and cooking-related incidents. While many people don't think about Thanksgiving (or the holidays in general) being a risky time of year, the overall death rate in the United States skyrockets on this turkey-loving holiday. In fact, Thanksgiving is considered the most dangerous day of the year to drive.
Why is Thanksgiving So Dangerous?
The National Highway Traffic Safety Administration (NHTSA) has longed warned drivers about the dangers of taking to the road on Thanksgiving. It is believed that more than 400 people die every year on Thanksgiving because of traffic-related accidents, and an additional 50,000 are seriously injured.
Sadly, more than one-third of all Thanksgiving Day fatalities are due to individuals who are driving under the influence of alcohol. With the number of rideshare services out there today, there is absolutely no excuse for driving impaired. We encourage drivers to be extra vigilant this time of year and make smart choices about their decision to drive. If you are attending a holiday party or consuming alcohol on Thanksgiving, consider staying the night at your friend or family member's house, or opting for a rideshare service to get home safely. Let's all do our part to prevent Thanksgiving Day from once again breaking the record for the most fatalities. 
Stay Safe with These Tips
 We know how dangerous Thanksgiving Day can be, so what can you do to stay safe during the festivities? Here are a few tips from our Laredo personal injury lawyers:
Make sure your car has undergone a routine maintenance check before a long road trip
Have emergency items in your vehicle, such as a flashlight, water, jumper cables, and a first aid kit
Stay alert
Driver sober
Always wear your seat belt
Pay attention to your surroundings
Watch local weather reports
Stay in the kitchen when cooking to avoid an accident or fire
When cooking, pay attention and be extra careful when handling hot foods and surfaces
Practice smart kitchen safety techniques
Keep children away from the stove
Keep knives out of reach of children
Make sure your smoke alarms are working
Whether you are hosting Thanksgiving this year or traveling to a family member's house, it's important you stay alert and doing everything you can to prevent an accident from taking place. Thanksgiving Day injuries are all-too common and often come with devastating results. If you are injured this Thanksgiving, please contact a Laredo personal injury lawyer from Green Law Firm today.