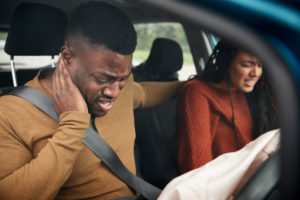 Typically, we focus on drivers who suffer injuries in car accidents, but what about passengers? Depending on the nature of the accident, passengers can suffer debilitating injuries and may have questions about what to do next. However, if you are injured in a car accident as a passenger, there are many different steps you can take to protect your rights and seek compensation.
In today's blog, we are going to go over some of the things you need to know following a car accident as a passenger. Regardless of whether you are a driver, passenger, or innocent bystander, car accident claims can be complicated. Proving liability is one of the most challenging aspects of any car accident case, especially as a passenger. However, passengers who want to file a claim are in a unique position in that they weren't at fault. Unlike other types of accident claims, passengers are not to blame for the accident, in most cases.
At The Green Law Firm, we strive to provide our clients with the information and knowledge they need to protect their rights. We understand how stressful car accidents can be, no matter what role you played. If you have suffered an injury following a car accident where you were the passenger, you may be able to seek compensation. Our bilingual Brownsville attorneys are here to help you understand what path to take and what you may be owed. If you have any questions or would like to schedule a free consultation to discuss your case, contact The Green Law Firm today.
Texas Car Accident Statistics 
Unfortunately, Texas consistently leads the pack in the number of car accident injuries and fatalities. According to the Texas Department of Transportation (TxDOT), more than 3,000 people die every year in car accidents in the Lone Star state. In 2017, there were 3,342 fatalities, 592 of which occurred on highways, 1,330 on state highways, and the rest on city streets and county roads. Let's go over a few additional statistics before moving onto common causes of Texas traffic collisions:
One person dies in a Texas traffic accident every 2 hours and 21 minutes (2017)
One person was injured as a result of a car crash every 2 minutes and 4 seconds (2017)
254,415 people suffered injuries in car accidents in 2017
The majority of car accident deaths are single vehicle, run-off the road incidents (35 percent)
26 percent of fatalities were due to drunk driving accidents
What are the most common types of vehicles involved in fatal accidents in Texas?
Passenger cars
Pickup trucks
SUVs
18-wheelers
Vans
Trucks
Common Causes of Car Accidents
The above statistics shed light on how dangerous car accidents are in Texas. We often neglect to discuss the implications traffic incidents can have on passengers, which is a big mistake. Just like drivers, passengers can suffer disabling injuries, or worse. Some of the most common causes of car accidents in Texas include:
Distracted driving
Driving under the influence of drugs or alcohol
Speed
Reckless driving
Inclement weather
Running red lights
Failing to stop
Improper turns
Wrong-way driving
Tailgating
Tire blowouts
Constructions zones
Nighttime driving
Who is Liable? 
A car accident is a scary experience. It is common to feel at a loss following an accident, especially for passengers. Understanding your legal rights and what the process for filing a claim looks like is overwhelming. The good news is that passengers typically don't have to worry about proving liability following a car accident. However, a passenger will still have to show that the driver who caused the accident was negligent. If your family member or loved one was driving the car that caused the accident, this can be difficult. But if you sustained injuries that contributed to you missing work or if you are now facing mounting medical bills, filing a lawsuit might be your best option.
Here is a look at the potential parties who may be held liable for an accident that injured a passenger:
The driver of the vehicle you were riding in – If the driver of the car in which you were a passenger is negligent, causing the accident, they may be held liable. Often, passengers feel guilty for filing a claim against their loved one; however, it is essential to remember the insurance company is who pays the claim.
The other driver – If another driver was at fault, any injured passengers could file a claim with that individual's insurance company.
A third party – If negligence or distraction did not cause the accident, passengers might need to seek compensation through a third party. For example, this includes the city municipal responsible for road maintenance or the manufacturer of the faulty car part.
The passenger's own insurance company – In some cases, a passenger may need to file a claim under his or her own insurance policy if the negligent party didn't cover losses.
Potential Complications of Passenger Claims
Texas is a "fault" state, which means passengers, pedestrians, and other motorists can collect damages from the driver who caused the accident. Keep in mind this is only the case if you were not more than 50 percent responsible for the accident, which is usually the case in passenger claims. But, there are specific roadblocks that may affect a passenger's claim. Some of the issues that may affect a given settlement or lawsuit include:
Problems concerning negligence
If multiple claims are filed at once
The passenger was to blame for the accident (comparative negligence)

This is rare but can happen if the passenger grabs the steering wheel, for example, or otherwise compromises the driver's ability to operate the car safely
If you were involved in a car accident while riding with another driver and suffered injuries or lost a loved one, contact The Green Law Firm today. We offer free consultations and are here to help you navigate the legal system and proceed as best fits your specific case. Our lawyers are bilingual and ready to talk today.