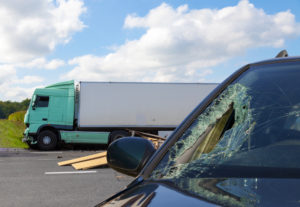 Regardless of who is involved, accidents are dangerous and often result in serious, life-changing injuries. When the accident is caused by a large truck or 18-wheeler, the results can be even more devastating. Due to the sheer size and volume or big rigs, the risk of serious injury and death are much higher than with passenger vehicles. While a passenger vehicle weighs around 4,000 pounds, an 18-wheeler can weigh more than 80,000 pounds. Given this weight difference, you can see why large truck accidents are so catastrophic – mainly the driver and occupants of the passenger vehicle.
With an estimated two million trucks in the United States and more vehicles on our highways than ever before, it is no wonder we are seeing an increased number of accidents take place. Unfortunately, Texas has one of the highest numbers of truck accident injuries and fatalities in the nation. Before we look at some of the most common causes of truck accidents, let's go over the injuries that are typically sustained:
Head and brain injuries
Broken bones
Bruises or lacerations
Amputated limbs
Spinal cord injuries
Burns
Neck and back injuries
Injuries to the limbs and extremities
Internal injuries
Understanding the Most Common Causes of Truck Accidents
When you are injured in an accident with a large truck, your first thought should be if everyone is OK. If you and your passengers manage to be unscathed, your next step will be filing a lawsuit. Truck accident cases are some of the most difficult, namely because you must take on the driver, the trucking company, and the insurance company to receive full compensation. This is why you need an experienced Brownsville truck accident lawyer on your side. If you've been involved in an accident with an 18-wheeler, please do not hesitate to contact us today.
Here is a look at the most common causes of truck accidents:
Malfunctioning Brakes – When a truck is not properly maintained, disaster can strike. One of the most common causes of truck accidents in Texas is malfunctioning brakes, which can result in a very dangerous scenario.
Driver Error – Although the drivers of large trucks must go through specialized training, errors can still happen. Truck drivers often make mistakes, whether driving while under the influence, driving drowsy, driving recklessly, or driving distractedly.
Inclement Weather – Bad weather can be dangerous for any driver, including truck drivers. If he or she is not adequately trained to drive in poor weather, it could result in an accident.
Improper Loading – Another factor in truck accidents is when the cargo is loaded improperly. This can throw off the weight of the tractor-trailer, resulting in an accident.
To learn more about your rights following a truck accident, please contact our Brownsville truck accident lawyer today.