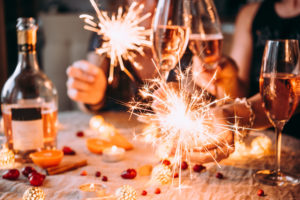 New Year's Eve celebrations will be here before you know it. As 2019 comes to a close, and we ring in the new year, there will undoubtedly be plenty of opportunities to celebrate and surround yourself with loved ones. While the new year marks a fresh start and allows us an opportunity reset, it also comes with inherent dangers. Sadly, New Year's Eve is one of the deadliest holidays of the entire year. Whether you are traveling for the holidays or plan on sticking around the Lone Star State, you must take steps to stay safe. From drunk drivers and inclement road conditions to cooking fires, many things can go awry and lead to an accident or injury.
This should come as no surprise, but New Year's is one of the booziest holidays. There is only one holiday where more alcohol is consumed than New Year's Eve – Fat Tuesday. According to research, 47 percent of men and 40 percent of women admit to binge drinking on New Year's Eve. Although there is nothing wrong with having a few drinks over the holidays, if these drinks turn into too many, the chance of accident or injury is higher. Often, people make the unfortunate decision to get behind the wheel of a car after drinking on New Year's. This is a terrible mistake that could lead to long-term repercussions.
Because December is National Drunk and Drugged Driving month, it is our goal to continue to raise awareness about this critical topic. Accidents happen, sure, but there is plenty that you can do to prevent many common injuries this time of year. At The Green Law Firm, our experienced personal injury attorneys understand how stressful it is to be involved in an accident at any time of year, especially over the holidays. Today we are going to look at why New Year's is so dangerous and what some of the most common accidents and injuries are. We will also offer a handful of tips to help you stay safe. If you have any questions, or if you've been involved in an accident in Texas this holiday season, contact The Green Law Firm today and schedule a free consultation.  
New Year's Accident Statistics
Not surprisingly, more people are on the roads during the holidays than at any other time of year, which is why we see a 34 percent increase in accidents. Many of us travel to relatives' houses for the holidays and have to juggle all the different holiday parties and get-togethers that are common this time of year. With so many people on the roads, it is no wonder Thanksgiving and New Year's Day are the deadliest holidays of the year.
Let's now look at a few other statistics about New Year's accidents:
New Year's Day sees a 95 percent increase in car accidents overall and a 54 percent increase in fatalities
The average person consumes 4 drinks on New Year's Eve
Women associate New Year's Eve with alcohol more than any other holiday
In 2016, 781 people died in drunk driving accidents in December
From 2012 to 2016, 14,472 people died in traffic accidents in December

Of those, 3,995 fatal crashes were alcohol-related

There are 71 percent more accidents involving drugs and alcohol between December 31st at 6 pm and January 1st at 6 am
Mothers Against Drunk Driving (MADD) state that individuals between the ages of 21 and 24 are most likely to be involved in an alcohol or drug-related accident
Since 1980, drunk driving accidents are down by 50 percent. However, we still have a long way to go. Data obtained from the National Highway Traffic Safety Administration (NHTSA) shows that Texas comes in at No. 7 for drunk driving deaths. In 2017, there were 5.19 drunken driving deaths per 100,000 people. These statistics should help you understand just how dangerous drunk driving is – on New Year's Eve and any other time of the year.
Common New Year's Accidents
The numbers don't lie, that's for sure. But other common types of accidents take place this time of the year besides car accidents. Let's now go over some of the most common New Year's accidents that occur in Texas and throughout the rest of the country:
Fireworks and celebratory gunfire accidents
Slip and fall accidents
Car accidents
Accidental fires
Pedestrian accidents
Flying champagne corks
What injuries are standard from these accidents?
The type and extent of the injury will vary depending on a host of factors, but some of the most common injuries from New Year's accidents include:
Broken bones, head injuries, whiplash, lacerations to the face, spinal cord injuries, traumatic brain injuries from car accidents
Alcohol poisoning from overconsuming
Burns and other injuries from firework mishaps
Injuries from gunfire
Injuries from champagne corks
Prevent New Year's Accidents and Injuries with These Tips
There are many steps you can take to prevent accidents and injuries this New Year's holiday. Some of our favorite tips include:
Get you and your loved ones a designated driver
Never drive drunk. Remember buzzed driving is still drunk driving
Take a rideshare service like Uber or Lyft
Pay attention to the weather and plan when traveling
Have a fire extinguisher on hand
Don't walk or bike drunk
Stay alert
Make arrangements to stay the night
Be prepared for an emergency
We hope these tips help you have a safe and happy new year. If you are involved in an accident on New Year's or in the new year, contact The Green Law Firm and schedule a consultation. We have experience handling a wide range of personal injury cases, including car accidents, slip and fall accidents, and wrongful death suits. To learn more about your rights or to discuss your case with a bilingual attorney, contact The Green Law Firm today.