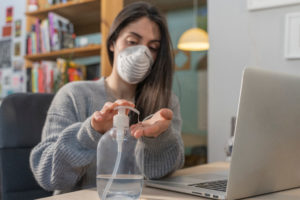 The great state of Texas, the entirety of the United States, and the rest of the world is currently facing a worldwide crisis that threatens the lives and livelihoods of millions. A novel coronavirus first emerged in a food market in Wuhan City, Hubei Province, China, in December 2019. This coronavirus soon swiftly spread throughout China and quickly made its way across Chinese borders, invading neighboring countries. Due to international travel like flights, the virus made its way into countries and continents thousands of miles away. Because of this quick and expansive spread, the World Health Organization (WHO) had no option other than to declare this novel coronavirus, now officially referred to as COVID-19, a global pandemic.
While many viewed 2020 as a year for personal and professional growth, COVID-19 has caused the world to virtually shut down. Many government bodies, both small and large, have had to make difficult decisions in order to protect people all over the world. Many of these decisions have forced residents to remain in their homes and even closed countless businesses across a host of industries. COVID-19 has impacted everyone in the world in one way or another.
Even attorneys have been forced to make some changes in the way they operate in order to keep their staff, clients, and community healthy and safe. Today, The Green Law Firm would like to take a deeper look at COVID-19 and the impact it has caused.
What is COVID-19?
As we stated earlier, COVID-19 is a novel coronavirus, one of a family of viruses that have plagued our world. While COVID-19 is the most devastating coronavirus in recent memory, some have impacted the world. In 2003, SARS emerged in Asia, eventually claiming the lives of nearly 800 people. In 2012, MERS began to spread, starting in Saudi Arabia, and claimed the lives of over 800 people.
At the time of the writing of this article, COVID-19 has already amassed:
Over 1.7 million confirmed cases worldwide
Over 110,000 confirmed deaths worldwide
COVID-19 has seen an unprecedented rise and continues to threaten more and more lives daily. To stay on top of the spread and growth of the virus, visit the WHO's website for daily reports and updates.
With the virus' spread, you should be aware of the most common symptoms of COVID-19 so that you can take the necessary precautions to ensure the virus does not spread. These symptoms include:
Fever
Shortness of breath
Nasal congestion
Cough
Sore throat
Runny nose
Tiredness
It is crucial to remember that the incubation period for COVID-19 is anywhere between 1-14 days, which means that even if you contract the virus, you may not show symptoms until two weeks after the fact. If you do experience any of these symptoms, isolate yourself from anyone else until you have been properly tested. The Center for Disease Control and Prevention (CDC) has created a guide to determine when to get tested and where to find tests in your area.
The State's Response
This virus has impacted Texas just as everywhere else in the country. The government bodies in the state have had to make difficult decisions in order to keep the public safe. Shortly after WHO's statement declaring COVID-19 a global pandemic, Texas Governor Greg Abbott declared a state of emergency throughout the Lone Star State.
Abbott initially signed an executive order banning the gathering of ten or more people, prohibited the dining or drinking in restaurants and bars (carry-out and delivery are still allowed), closed gyms and churches, and temporarily closed schools. This order was supposed to end on April 3, but Abbott extended this order until April 30. While he is not prepared to call this order an official shelter-in-place or stay-at-home order, he does advise residents to remain in their homes unless they need to leave for essential work or errands, such as grocery shopping and going to the doctor.
When determining what is and isn't deemed an essential service, Texas abides by the U.S. Department of Homeland Security's list of services in its Guidance on the Essential Critical Infrastructure Workforce, Version 2.0. Some of these essential services include:
Healthcare
Communications
Transportation systems
Emergency services
Government facilities
Information technologies
Financial services
These are just a handful of services that Texas and the U.S. Department of Homeland Security deem as essential services. Many industries have seen their businesses impacted by these guidelines. Restaurants can only do to-go and delivery orders, gyms and schools are closed, and there cannot be gatherings of ten or more people.
Impact on Attorneys
As you can imagine, attorneys are not impervious to the impact COVID-19 has on the world. The most obvious result of these restrictions is in the courtroom. There are fewer overall cases, hearings keep getting postponed, depositions have been canceled or rescheduled, and deadlines have been extended. A whole host of courts have even closed down for the time being.
Courthouses are beginning to prioritize many cases, such as criminal bond hearings and family court cases involving child custody, while nonessential cases, such as evictions, worker's comp, and more, have been postponed.
The Green Law Firm looks to continue to offer our clients and community legal assistance throughout this stressful time. We aim to carefully remain open, taking all the necessary precautions to protect our staff, clients, and community. Our office will remain open with key members present, and we will be practicing all social distancing strategies, as well. While we do still intend on serving our clients, we do ask you to not leave your home for in-person visits but to instead give us a call or send us an e-mail. We feel that this gives us the best chance to still serve our clients while remaining safe and healthy. If you have any other questions regarding our service, please contact The Green Law Firm today.