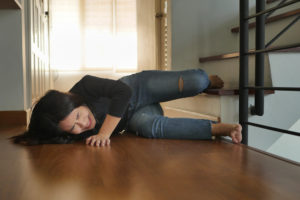 Being involved in a slip and fall accident can be an extremely stressful and overwhelming experience. Unfortunately, most people will be involved in some type of slip, trip, and fall accident at one point during their lifetime. And in most cases, the accident isn't the victim's fault. Because of this, it is important you understand what steps to take following a slip and fall accident, as well as what your rights are legally.
If you slip, trip, or fall on another business or person's property, they may be held liable for your injuries. In the event the accident was not your fault, it is particularly important for you to have the right team on your side. Bringing a premises liability case against a large business or corporation can be challenging, to say the least. By working with an experienced personal injury and premises liability lawyer that understands slip and fall accidents, you will be setting yourself up to win the case.
Steps to Take Following a Slip and Fall Accident
 Slip and fall accidents have the potential to cause serious and even disabling injuries or death. Any given property owner has a responsibility, or a "duty of care", to ensure their premises are safe and clear of any hazards. When they fail to do this, and someone is injured, they must be held accountable for their actions. Some of the damages you may be able to seek following a slip and trip accident include medical bills, pain and suffering, and long-term care or rehabilitation.
With that in mind, let's look at some of the steps you should take immediately following a slip and fall accident:
Seek medical treatment – The very first thing you should do after a slip and fall accident is to see a doctor and have your injuries assessed. This is the case even if you do not think your injuries are serious, as many symptoms take hours, days, and even weeks to show up.
Report the accident – After you've been checked out by a medical professional, it is important for you to report the accident. This is the case regardless of whether the incident takes place in a store, a restaurant, on a sidewalk, a parking lot, or a friend's house. Report the accident immediately to a manager, property owner, or landlord and make sure you give them all the details.
Take pictures and document the incident – It is imperative for you to get as much information as possible about the accident, especially if you plan to take legal action. Talk to witnesses, take pictures of the scene and what you believed caused you to slip, trip, or fall, and write down everything you remember about the incident.
Contact an attorney – It may be tempting for you to want to give a statement and talk about the accident, but before you do that you should contact an attorney. An experienced slip, trip, and fall lawyer will help you understand what it will take to win your case and will advise you on how to proceed.
Accident victims are often unsure how to proceed and what their rights are. This is where we come in. If you have been involved in a slip, trip, and fall accident, please contact a personal injury lawyer from Green Law Firm today and set up a free consultation.