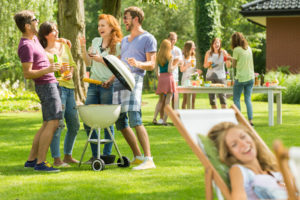 Summer is almost here, and the first holiday that unofficially signals the start of summer is Memorial Day! While activities will not be as plentiful as in years past due to the current COVID-19 pandemic, many areas in the country are beginning to slowly open up. Texas is one such place that is beginning to see businesses open that have been temporarily closed. People can engage in more activities in the coming weeks than they have in months. Since people have had to remain indoors as much as possible, many people have gotten tired of being cooped up. They are ready to get out of the house, which means Memorial Day weekend could see large numbers of people take to the roads to celebrate.
While many people are excited to leave their homes to celebrate the holiday weekend in the sun, this often leads to a high number of Memorial Day accidents. Memorial Day weekend is already one of the most dangerous times to drive, as you are four times more likely to die in a car accident over this weekend than a normal weekend.
This is just one statistic to know if you do decide to hit the road to celebrate this upcoming holiday. Throughout this article, we will provide even more Memorial Day accident numbers. If you go out this Memorial Day weekend and are injured in an accident, contact The Green Law Firm today.
Memorial Day Statistics
As we said previously, you are four times more likely to lose your life in a car accident over Memorial Day weekend than any other weekend. In fact, Memorial Day weekend ranks number one out of all holidays for fatal car accidents, averaging 312 fatal accidents per year. Add in the fact that this is the first major holiday since the state has begun to reopen, and roads will become more crowded than normal.
Additionally, holidays increase the likelihood of consuming alcohol, which also increases the likelihood of getting into a drunk driving accident. Roughly 40% of all accidents during Memorial Day weekend were drunk driving accidents.
AAA will not release a Memorial Day travel forecast for the first time in 20 years, due largely to the ongoing global pandemic. In 2019, 43 million Americans traveled over Memorial Day weekend, the second most number since AAA started tracking holiday travel volumes. While the COVID-19 crisis will cause a drop in travelers this year, plenty of travelers are expected to hit the roads this upcoming holiday weekend, thanks in large part to many areas reopening.
Another reason for these Memorial Day accidents happens to be people running red lights. More drivers run red lights in May than in any other month. Memorial Day weekend is one of the top holidays for red-light running. 2017 saw 880 deaths due to people running red lights altogether, with even more accidents.
Increases in traffic, more drunk drivers, and more people disobeying traffic signs lead to more traffic accidents than at any other point in the year. But these are not the only Memorial Day accidents.
Other Accidents
Car accidents and drunk driving accidents aren't the only ones to occur on Memorial Day weekend. There are plenty of activities that people engage in that can lead to injuries and worse. Some of these include:
Boating Accidents: With Memorial Day marking the unofficial start of summer, many people take their boats out on lakes and other bodies of water. Not being careful and operating a boat under the influence of drugs or alcohol can lead to boating accidents. Injuries sustained in these accidents include traumatic brain injuries (TBI), spinal cord injuries, back and neck injuries, and more. In 2017, there were 4291 boating accidents, leading to 658 deaths.
Burn Accidents: Cookouts and grilling are popular summer activities. The CDC reports over one million burn injuries a year. While over half of these injuries are the result of fireworks, which are a popular 4th of July tradition, people can suffer burns from grilling and campfires. 60% of people plan on grilling over Memorial Day weekend, so the risk is high. May accounts for 14% of grill fires, which is second only to July.
Pedestrian and Bike Accidents: With the COVID-19 crisis ongoing, many families may opt-out of traveling for the holidays. Some may just stay at home and take family days for a bike ride or walk in the park. However, with so many drivers taking to the roads, pedestrians and bicyclists must be very careful to avoid disaster.
Staying Safe
While Memorial Day accidents do happen, you can decrease your chances of suffering one by following these useful tips:
Give yourself plenty of travel time. Over holiday weekends, especially Memorial Day weekend, the roads are fuller than ever. Prepare for delays, such as construction and accidents, so that you don't force yourself to speed and act recklessly.
Never get behind the wheel of a car after consuming alcohol. Plan to have a ride home, use rideshare like Uber or Lyft, or stay the night.
Pay attention to and obey traffic signs and lights. These are put in place to protect you and other drivers.
Be aware of pedestrians, bicycles, and motorcycles. These are much smaller and are harder to notice.
Practice proper fire safety. Never allow fires to get too big and do not allow small children near fires. Always keep fire deterrents nearby.
Eliminate all distractions. Do not text and drive, eat and drive, or apply makeup while driving. Keep your eyes on the road, hands on the wheel, and mind on driving.
With more and more places across the country opening, Memorial Day weekend looks to be busier than many anticipated. However, that means that the chances for accidents will only increase. If you find yourself injured after a Memorial Day accident, contact The Green Law Firm today and let us help.