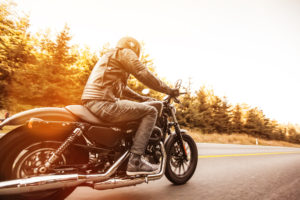 Texas is an ideal place to own a motorcycle. With the long stretches of land on the Texas roads, the various array of terrains to gaze upon, it is a desirable place for motorcycle drivers. Before going out on the roads, it is important to be aware and somewhat familiar with the Texas motorcycle laws.
Your Texas Motorcycle License
In the state of Texas, you must hold a valid motorcycle license (a Class M driver's license). In order to obtain this license, you must have previously obtained a regular driver's license. The law doesn't only pertain to motorcycle drivers but also those driving mopeds. In order to obtain your Class M license, you must take a Department of Public Safety DPS-approved motorcycle safety class. There is a written test that covers traffic laws relevant to motorcycles as well as a road test that has the potential to be waived.
Motorcycle Helmets
As a driver and rider on a motorcycle in the state of Texas, you are required to wear a helmet that meets Federal Motor Vehicle Safety Standard #218. If one is over the age of 21, has a DPS-approved Motorcycle Operator Training Course or can prove that they have at least $10,000 in medical insurance then one can be exempt from wearing a helmet.
Motorcycle Equipment
If you are driving a motorcycle, you must have the following equipment according to Texas law:
An exhaust system
Wheel assembly
Tail lamp
Stop lamp
Horn
Mirror
Steering
Brakes
Tires
License plate lamp
Rear red reflector
Headlamp (modulating permitted)
Vehicle identification number
Motorcycle Passengers
Motorcycles passengers must be at least 5 years of age. If the passenger is under the age of 21 they are required to wear a helmet. If the driver themselves meets the helmet exemption requirements than a passenger over the age of 21 may also be exempt.
Lane Splitting
Lane splitting is when a motorcyclist rides their bike between the two striped lanes of traffic, or when two motorcyclists ride side by side in a single lane. While lane splitting is legal in some U.S. states, it is not legal in Texas and can result in tickets and fines.
Motorcycle Injuries
If you are involved in a motorcycle accident, one of your first priorities should be contacting a personal injury lawyer in Brownsville. While motorcycles are an exciting and fun way of traveling, if the proper laws and rules are not followed it can increase your risk of injury or death. Regardless of safety gear and implementation of laws, motorcycles are naturally more dangerous than cars because of their size and lack of outer protection.
If you experience an injury while riding your bike, you will want an experienced and caring motorcycle accident attorney in Brownsville at your side. Here at Green Law Firm. our trusted and highly recommended team will help you fight for justice and receive compensation where it is deserved. Call us today to schedule a consultation.