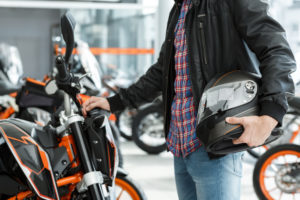 With summer in full swing, you are probably seeing a lot more motorcyclists on the Texas highways. Not only does riding a motorcycle provide you with a fast and fun way to get from point A to point B, but there's just something invigorating about letting that fresh air wash over you. That being said, motorcycles come with inherent dangers, and it is imperative all drivers know how to ride safely. As the days continue to get warmer, it is important for motorcyclists to take a moment to ensure they are doing everything they can to protect themselves and others on the roads. Sure, accidents happen and many incidents involving motorcycles are inevitable, regardless of how safe you are. But taking the time to learn how to ride safe can vastly reduce the risk of injury to yourself, your passenger, and others on the road.
The fact of the matter is that motorcyclists are 30 times more likely to die in a crash than those in a car. According to the Insurance Institute for Highway Safety (IIHS), nearly half of all motorcycle deaths are the result of accidents with a single vehicle. It should come as no surprise that serious head injury is the leading cause of death among fatally injured motorcyclists. This is why wearing a helmet is so important. It is estimated that helmets can prevent motorcycle deaths by 37 percent, and prevent brain injuries by 67 percent. If you or a loved one has been injured in a motorcycle accident, please contact our Laredo personal injury law firm. The motorcycle accident attorneys at Green Law Firm understand what you are going through, and will do everything we can to ensure you receive the compensation you deserve for your injuries. We encourage you to make motorcycle riding safety your top priority, and we hope to help you do that by providing you with the following safety tips:
Always wear a helmet – This should go without saying, but the best way you are going to stay safe while riding your motorcycle in Laredo this summer is by wearing a helmet with a face shield or protective eyewear. Motorcyclists that do not wear a helmet are five times more likely to sustain a critical head injury — it's simply not worth it.
Wear the right gear – Any prepared motorcyclist knows how important it is to wear the appropriate gear, no matter what the weather is like. Wearing leather clothing, boots, and long pants and sleeves will go a long way in minimizing the injuries you sustain, should an accident occur.
Ride defensively – Never assume another driver can see you, regardless of where you are riding and how busy the roads are. Approximately two-thirds of all motorcycle accidents are caused by a driver violating the motorcyclist's right of way, which just goes to show how important it is to be aware of your surroundings.
Obey traffic laws – Don't try to outsmart other drivers or make any fancy moves. Obey the speed limit, pay attention to local laws, and don't try to be a hero.
Never ride tired or inebriated – If you are tired or under the influence of drugs or alcohol, you are at a much higher risk of being involved in an accident. Be smart and park your bike if you are fatigued, drowsy, or under the influence.
If you are involved in a motorcycle accident in Laredo, give the personal injury attorneys at Green Law Firm a call today to discuss your case.