There is a vast amount of circumstances in which one may be able to file a personal injury case.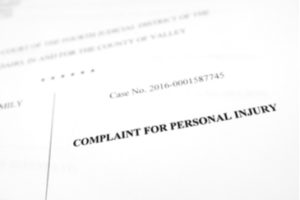 Unfortunately, many people fail to identify and evaluate the necessary evidence before attempting to make a personal injury claim, and only learn later when it fails that it was not the right call. If you are able to provide evidence and answer the questions of "were you injured by the negligence of another," "who was at fault," and "what were the damages caused by the incident," then you can have some confidence in your rights to filing a personal injury claim.
Together, you and your PI lawyer in Brownsville, can review your claim to identify if you have a potentially successful case. But, there are some basic aspects of the situation that you can identify and address in order to make a personal injury claim. The first is knowing as to whether or not the "responsible" party acted in a negligent manner. Such as, if a person breaks the law, which in turn leads to another person enduring some sort of injury, then said person who broke the law would be responsible and considered to be acting in a negligent manner. For example, if a driver were to run a red light and crash into another vehicle and cause that person to experience any type of injury, they would be committing an act of negligence and be responsible for the victim's injuries. It is also important to note that said person's negligence is the cause of the victim's injury. If the injuries consequently resulted in medical bills, loss time at work, pain and sufferings, and/or other compensatory damages, then you likely have right to make a successful personal injury claim.
If you are victim of a personal injury, you probably are already aware that the consequences can be physical, financial, and life interrupting. But, there is also another important factor to consider. This important consequence of a personal injury to be acknowledged is that of the damaging emotional and mental toll that one can experience due to a personal injury incident. In particularly severe circumstances, in which the injury took place, moving forward can sometimes be extremely difficult for some victims. On top of the consequences experienced by the victim, it is also important to consider the toll that can be taken on their loved ones as well.
Some people fail to recognize that there is compensation that they may have a right to in these types of situations if another's negligence, etc. was the cause of one's incident. And it is for these reasons many people turn to a Brownsville personal injury attorney. Contact us today, and let us help you get your life back on track, as well as the compensation that is owed to you for your sufferings.