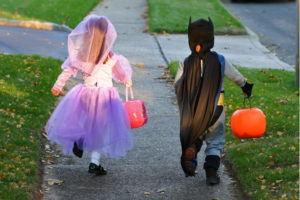 It's October (yes, already) which means Halloween is right around the corner. For kids and adults alike, this spooky holiday is one of the most exciting and highly-anticipated nights of the year. From dressing up in costume to all the fun parties, it's a great night for everyone. However, Halloween night does not come without its risks. It is important to remember that safety should always be a top priority, whether you are sending your kids out to trick-or-treat, or you are attending a costume party with your friends.
According to Safe Kids, there are more dangers associated with Halloween than many people realize. Let's take a look at a few of these statistics to get a better idea of what we are up against this coming holiday:
Only one-third of all parents talk to their children about Halloween
On average, twice as many young pedestrians are killed while walking on Halloween compared to every other day of the year
Only 18% of parents use reflective tape on their kids' costumes
12% of children under the age of 5 trick-or-treat alone
63% of children don't carry a flashlight while they are trick-or-treating
An estimated 41 million children will trick-or-treat on Halloween
70% of parents do not accompany their children trick-or-treating
There are 3,800 Halloween-related injuries every year
86% of adults bring alcohol to a Halloween party
52% of all motor vehicle deaths on Halloween involve alcohol
On average, 41 people are injured in house fires on Halloween
These statistics show just how dangerous Halloween can be. This is why it is so important for you to discuss safety tips with your children before sending them out trick-or-treating. With this, you must also take safety consideration, whether you are staying at home or attending a party. Be responsible and never drink and drive. Call a rideshare service or make arrangements to stay with friends, but never get behind the wheel of a car after drinking on Halloween, or any night of the year, for that matter.
Here are a few safety tips for you and your children to keep in mind this Halloween:
Carry a flashlight when outside
Put reflective tape on your kids' costumes
Make sure your child can walk in his or her costume
Make sure your child can see when in his or her costume. Tell them to remove their mask when walking, putting it back on when approaching the door to trick-or-treat
Be especially careful when crossing the street, driveways, or alleyways
Don't assume a driver can see you just because they are stopped
Drivers: Pay attention to the road at all times
Watch out for small pedestrians
Never drive drunk or distracted
If you sustain an injury or are involved in an accident on Halloween this year, contact a Laredo personal injury lawyer from Green Law Firm today.