Motorcycles May Be Fun, But They Can Also Be Dangerous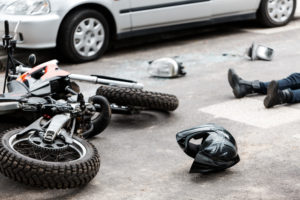 With the temperatures heating up, there's a good chance you've noticed more motorcycles on the road than usual. Summer is a very popular time of year for motorcyclists and understandably so. Nothing compares to cruising around the city streets and backroads on a bike – it is both rewarding and exhilarating. However, riding a motorcycle also comes with inherent risks.
As more people move to Texas, we only expect our roads to become even more congested than they already are. Because of this, it is very important for cars and motorcycles to learn how to share the road. As car drivers, it is imperative you take extra precaution when motorcycles are sharing the road with you. Unfortunately, many motorcycle accidents end tragically.
Car-Motorcycle Accident Statistics
Today, we are going to talk about the steps you can take to protect yourself, your passengers, other drivers, and motorcycles. In a world full of distractions, it is critical that we take the time to brush up on road safety tips. It could mean the difference between life or death – literally.
Before we discuss how you can minimize the risk of a motorcycle accident as a car driver, let's go over a few statistics:
It is estimated that more than 50 percent of all motorcycle accidents happen because of negligence on the part of other drivers
In 2017, nearly 5,000 people were killed in motorcycle accidents
Most vehicle-related motorcycle accidents involve SUVs, cars, vans, and trucks
In Texas, 491 motorcyclists died in accidents in 2017 alone
In 2017, 33 motorcycle passengers lost their lives and nearly 2,000 riders and passengers suffered debilitating injuries
Tips for Minimizing the Risk of Motorcycle Accidents 
The above statistics show just how serious motorcycle accidents can be. To ensure the safety of everyone, please keep the following tips in mind when sharing the road with motorcycles:
Always check blind spots, mirrors, and signal before turning or changing lanes
If you are driving a large vehicle, be cautious when making turns or changing lanes
Always give bikers the whole lane
Look for motorcycle turn signals and treat them with caution
Remain at a safe distance when following motorcycles
When passing a motorcyclist, give them plenty of space
Always check your blind spots
Consider the weather and how it may affect a motorcyclist
Stay in your own lane
Take extra precaution in intersections and during sunset and sunrise
Be courteous
Avoid any distractions that may take your attention away from the road and the motorcyclist
Keep in mind that motorcycles are able to react more quickly than cars
Do your best to help motorcyclists stay safe when riding at night by not following them from a close distance, making sure your high-beams are not on, and refraining from passing
If you have been involved in a motorcycle accident, please contact Green Law today. Our personal injury lawyers will assess your case and advise you on how to proceed. Contact us today for a free consultation.