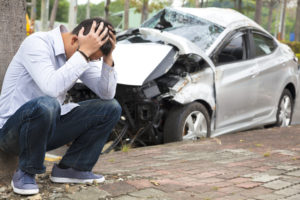 Try as you might, sometimes things just don't go our way. If you were one of the unlucky victims of an accident at the start of the new year, you're probably pretty frustrated with how this decade is going. Unfortunately, accidents can happen at any time and frankly don't care whether you've just made your New Year's resolution to remain safe and healthy this year. Because of this, you must be prepared and know what to do in the event of an accident.
The most common type of accident we see around New Year's Day and the holidays, in general, are car accidents. Just one look at driving statistics for December and January will show how dangerous the roads are this time of year. According to AAA, a record-breaking 112.5 million Americans travel during the holidays, 102 million of whom go by car. Not only are there more people on the city streets, highways, and interstates, but people often make poor decisions, such as driving while intoxicated or texting.
Even if you do everything right and are as safe as possible, there's a chance you will find yourself in the middle of an accident. If you get in a drunk driving accident or any other type of accident that causes injuries and damages, contact The Green Law Firm and schedule a free consultation. Our bilingual Brownsville lawyers are ready to hear your case and help you understand your rights. Please don't wait, give us a call today so we can get to work. 
Common Causes of New Year's Accidents 
Reports show there is a 95 percent increase in car accidents on New Year's Day. Over the holidays in general, the United States experiences a 34 percent increase in crashes. And while Mothers Against Drunk Driving (MADD) states that the number of drunk driving deaths has decreased by 50 percent since 1980, it is still a severe problem during the holidays and throughout the rest of the year.
Unfortunately, Texas happens to have one of the highest accident rates in the country, especially this time of year. In 2018, one person was killed every 2 hours and 25 minutes in a car accident, and someone was injured every 2 minutes and 7 seconds. These numbers show just how dangerous the Lone Star State's roads are for drivers, passengers, motorcyclists, and pedestrians.
Some of the most common causes of January accidents include:
Drunk driving or driving under the influence of drugs
Speeding
Reckless driving
Wrong-way collisions
Single-vehicle crashes
Road rage
Steps to Take Following an Accident in the New Year
Understanding the common causes of car accidents and having a few statistics in the back of your mind are just a couple of ways to stay alert and protect yourself. The more you know, the better prepared you will be. Unfortunately, there are many distractions on the roads today that can lead to severe accidents. In Texas in 2018, there were 12,161 serious injury crashes, with 14,908 individuals suffering a disabling injury.
If you started the New Year with an accident, consider the following steps:
Always check yourself for injuries and try not to move if you suspect a severe injury
Check on your passengers to see if they are OK
Move to the side of the road or somewhere else for safety
Contact the police
Wait for help and do what you can to warn other drivers to use caution
Exchange information with other drivers
Document the accident (take pictures, write down notes, talk to witnesses, etc.)
Never admit fault
Notify your insurer and begin the claims process
Contact an experienced accident attorney
What Kind of Damages Can I Demand?
If the accident wasn't your fault and the other driver acted negligently or was otherwise unsafe, you may be able to recover damages. In fact, this is one of the biggest reasons people contact a personal injury attorney. There are several different types of compensation you may be able to seek (these are referred to as damages).
Several of the damages you may be able to demand with the help of a lawyer include:
Loss of wages
Loss of future earnings
Medical bills
Cost of future medical care or rehabilitation
Household expenses
Property damage
Pain and suffering
Mental anguish
Loss of companionship (this is often pursued through wrongful death lawsuits)
Other types of damages that may be recovered through a wrongful death lawsuit include:
Loss of financial contribution
Funeral expenses
Burial expenses
Cost of medical care before the victim's death
Emotional distress
Loss of support
Loss of companionship
Who is Liable? 
Knowing the damages you may be owed is a great place to start if you are considering filing a personal injury lawsuit following a January accident. When submitting a claim in Texas, chances are you will go through the at-fault driver's insurance company. One of the first things you will be asked to do is support your claim that the other driver was liable.
To prove liability in a car accident case, you must be able to show the following:
The negligent driver had a duty to safely and cautiously operate their vehicle on the road
The driver was negligent and did not fulfill that duty
The driver's negligence was what caused the accident
You suffered physical injuries or emotional damages because of this negligence
So, how exactly do you prove the above? Here are a few examples:
Photographic evidence of the accident scene
Exchange information with the other driver
Contact the police and file a report
Talk to witnesses
Consult an experienced attorney
A car accident attorney can make a massive difference in the type of damages you can recover. Unfortunately, insurance companies often try and take advantage of car accident victims by offering them a low settlement right from the start. With the help of our experienced team, you won't have to worry about this. We are here to help and will do everything we can to ensure justice is served. If you started 2020 off involved in an accident, contact The Green Law Firm and schedule a free consultation today.