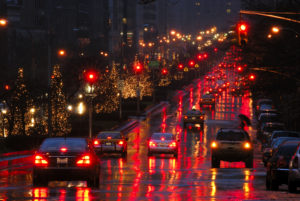 As 2020 comes to a close, the holiday season swiftly approaches. Now that Halloween has ended, the next major holiday on the calendar is Thanksgiving. Celebrated on the last Thursday of November, Thanksgiving is a time to come together with friends and family to celebrate all that we are thankful for in our lives. Given the circumstances of 2020, Thanksgiving might look different for many families, but that won't stop people from celebrating.
A small poll by Tripadvisor revealed that over half (56%) of Americans still plan on traveling this Thanksgiving. 76% of those traveling plan on driving to their destination. That means millions of people plan on hitting the road this Thanksgiving. However, with more people on the road than usual, the risk of car accidents only increases.
While Thanksgiving is a joyous time for families and friends, for some, it often ends in disaster due to car accidents on their way to their destinations. What should have been a wonderful weekend spent with the ones you love ends in misfortune because of a car accident. Often, these accidents are to no fault of your own.
Thanksgiving is one of the most widely celebrated holidays throughout the year. That also means that more people will be out and about than usual. If you find yourself the victim of a car accident due to someone else's negligence or recklessness this Thanksgiving weekend, contact The Green Law Firm and let us help you through this difficult time.
Thanksgiving Accident Causes 
Last year, AAA predicted that 55 million Americans would be traveling Thanksgiving weekend. With the threat of COVID-19 still lingering, those numbers might decrease in 2020. But if the Tripadvisor poll mentioned early is any indication, it might not be by much.
Most Americans plan on traveling more than 50 miles over the holiday weekend. Combine this travel distance with the potential for bad weather, an increase in traffic, and general holiday stress, and you have a recipe for disaster.
In 2017, 528 people died in car accidents over Thanksgiving weekend. With fewer people hitting the road this Thanksgiving than in years past, these numbers might not reach the heights they have in the past, but the threat remains.
There are a host of reasons why car accidents occur so frequently over the holidays. Some of the most common causes include:
Driving under the influence of drugs or alcohol
Speeding
More cars on the road
Failing to obey traffic signs, lights, and laws
Inclement weather
Poorly maintained roads
Drowsy driving
Increased traffic
Distracted driving (texting, eating, applying makeup, etc.)
More people drink over the holidays than one might think. Alcohol consumption increases significantly over the holidays. According to a survey by Alcohol.org, drinking rates increased by 33% between Thanksgiving and New Year's Day. Naturally, this increase in drinking means that there are likely more drunk drivers on the road during the holidays. In fact, according to the National Safety Council, 35% of traffic fatalities over Thanksgiving weekend involved a drunk driver.
The night before Thanksgiving (referred to as Blackout Wednesday) also adds to the on-road dangers. This night has quickly become one of the biggest drinking days in the U.S, with beer and liquor sales increasing by 270% and 114%, respectively.
Common Injuries
All car accidents can be devastating. However, the injuries sustained in these accidents range from minor cuts and bruises to severe, long-term injuries. Some of the most common injuries in these accidents include:
Cuts, bruises, scrapes, and abrasions
Broken bones
Whiplash
Head trauma
Traumatic brain injuries (TBI)
Internal bleeding
Spinal injuries
Paralysis
Death
The seriousness of your injuries will depend on a host of factors. Regardless, do not wait to seek medical attention. Many injuries don't make themselves known until weeks later. By then, your injuries might worsen significantly, and it will be harder to recover compensation for your injuries and the treatment for them.
Staying Safe This Thanksgiving
Thanksgiving is meant to be a time to celebrate all the things you are thankful for in life with your friends and family. People travel long distances to be with the ones they love. Unfortunately, for many, this time is often interrupted or ruined by a car accident. What was supposed to be a time for joy far too often ends in tragedy.
To stay safe and enjoy this time with your loved ones, here are some useful safety tips you can use this Thanksgiving:
Never get behind the wheel of a car after drinking.
Leave with plenty of time to avoid being in a rush.
Obey the speed limit and all other traffic signs, lights, and laws.
Always wear your seatbelt. Seatbelts are 45% effective in preventing car accident fatalities.
Avoid all distractions while driving (texting, talking on the phone, eating, applying makeup, etc.).
Get plenty of rest before driving to avoid drowsy driving.
Take plenty of breaks to keep yourself fresh.
Make sure you keep your car maintained and that you have plenty of fuel before you head out.
Keep your eyes on the road, hands on the wheel, and mind on driving.
Avoid driving at night.
Always use your turn signals to alert other drivers of your moves.
Hopefully, these safety tips can keep you and your family safe as you travel to and from your Thanksgiving celebrations. After all, the entire team at The Green Law Firm wants everyone to enjoy this holiday season without having to deal with the ramifications of a car accident.
Contact a Brownsville Car Accident Attorney
Nobody wants to see their holiday celebrations end in disaster. However, you can't control the actions of others. Some people hit the roads without care for other drivers, which often leads to car accidents. These accidents strip the fun and excitement from the holiday weekend. That is why it's crucial to be as safe as possible to prevent these accidents. However, sometimes that isn't enough, and you find yourself involved in a car accident.
If you suffered injuries in a car accident due to someone else's negligence or recklessness this Thanksgiving weekend, contact The Green Law Firm right away and let us fight for the justice you deserve.