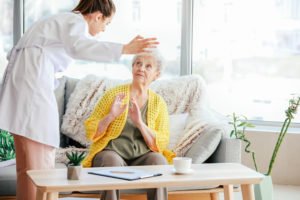 Whenever you put your loved ones in the care of a nursing home, you expect them to receive the highest level of care imaginable. In many cases, these elders don't possess the ability to care for themselves on their own, requiring the aid of others for basic necessities. However, in many cases, this does not happen. Far too often, residents of long-term care facilities are victims of nursing home abuse or neglect.
This abuse is a cause for concern throughout the United States. Unfortunately, the growing elderly population may lead to even more cases of nursing home abuse. According to the U.S. Census Bureau, by 2030, all baby boomers will be over 65, which means one out of every five U.S. residents will be retirement age. There will be more people 65 and older than there are those under the age of 18 by 2034.
Our elderly loved ones are cherished members of our families. That only makes things harder when we find out they have been victims of abuse or neglect. Fortunately, with the help of a trusted and experienced nursing home abuse attorney, you can ensure they receive the justice they deserve. Give The Green Law Firm a call today, and let us fight for you.
Nursing Home Abuse Facts
As the elderly population continues to grow, cases of abuse will more than likely go up, as well. To get a better understanding of the issue of nursing home abuse, here are some telling facts and statistics:
1 in 10 Americans over the age of 60 has experienced elder abuse in some form.
Some experts estimate that as many as five million elders experience abuse every year.
One study estimates that only one in 14 cases of abuse is reported.
Those who have experienced elder abuse have a 300% higher risk of death than those who did not experience any mistreatment.
According to the Nursing Home Abuse Center, elderly women are more likely to experience abuse than men.
Caregivers are more likely to abuse elders emotionally compared to spouses or family members.
38% of elders have experienced at least one instance of verbal abuse.
According to WHO, 64% of nursing home staff members admitted to abusing their residents.
24% of nursing home residents reported they suffered physical abuse at the hands of a staff member.
Nursing Homes and COVID-19
Throughout the COVID-19 pandemic, nursing home residents have been under constant threat. They are, after all, a high-risk population. 37% of all COVID-19 deaths in the U.S. are linked to long-term care facilities, accounting for over 140,000 deaths. However, COVID-19 is not the only threat these residents face. Cases of nursing home abuse have surged during this time, claiming even more lives.
Nursing home staffs are overwhelmed. Staff members have to attend to residents that have contracted COVID-19, which means they often neglect other residents, failing to keep up with their hygiene, feed them, and more.
According to an analysis of over 15,000 facilities, Stephen Kaye, a nursing home expert and professor at the Institute on Health and Aging at the University of California, San Francisco, found that for every two victims of COVID-19 in these facilities, another one died from other causes. He predicted that these excess deaths could exceed 40,000, starting back from March 2020.
Additionally, doctors and healthcare experts believe that isolation might be impacting residents more than they once thought. To protect themselves from the coronavirus, these residents must isolate themselves from their loved ones. This isolation leads to significant bouts of depression and loneliness. Many doctors have even listed the cause of death on their death certificates as "failure to thrive."
Types of Nursing Home Abuse
Unfortunately, nursing home residents can experience abuse in many different ways. Often, when people think of abuse, the first thing that comes to mind is physical abuse. However, abuse is not limited to acts of violence. Common forms of nursing home abuse include:
Physical Abuse: intentionally causing pain or injury to a resident, including punching, kicking, slapping, bruising, physically restraining, hitting them with or throwing an object at a resident, etc.
Emotional Abuse: causing emotional or mental anguish through verbal or nonverbal acts, including insults, threats of violence, intimidation, ridicule, etc.
Sexual Abuse: any and all acts of non-consensual sexual contact with a resident that cannot consent, does not comprehend the situation, is threatened or coerced, or is physical forced
Financial Exploitation: exploiting a resident for your own financial gain, including illegal taking, misuse, or concealment of a resident's funds, property, or assets
Neglect: failing to provide the basic necessities of survival, such as food, water, clothing, shelter, healthcare, protection, etc.
Signs of Nursing Home Abuse 
Unfortunately, many residents in nursing homes are too afraid to speak out against their abusers. In many cases, they believe their abuse will worsen if they report it. That is why it's crucial to be aware of the warning signs so that you can stop it before it's too late. Here are some warning signs to keep an eye out for:
Physical injuries, such as broken bones, bruises, cuts, burns, etc.
Unusual anxiety or depression
Withdrawing from normal activities
Jumpiness, paranoia, always being on alert
Injuries around the genital areas
Reclusiveness
Bedsores or neglected health conditions
Poor hygiene
Changes in financial situations
Because COVID-19 has caused many nursing homes to close their doors to visitors, it can be hard to speak with or see your loved ones. Try reaching out to them via video calls or phone calls more often so you can monitor their health and situation closer.
Contact The Green Law Firm
Nursing home abuse is a significant issue throughout the U.S. and around the world. Unfortunately, these cases continue to grow as the elderly population does. To make matters worse, very few people report their abuse. If you have a loved one in a long-term care facility, keep an eye out for any signs of abuse so that you can stop it before it gets worse.
If your loved one is a victim of nursing home abuse, contact The Green Law Firm. Our team of nursing home abuse attorneys are here to fight for the justice you and your loved one deserve.