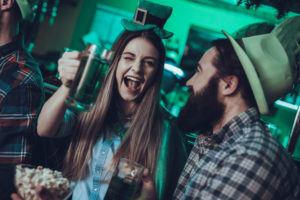 For nearly 300 years, St. Patrick's Day has been celebrated all throughout the world by those of Irish descent. With 33 million Americans claiming Irish ancestry compared to only Ireland's population of only 4.6 million people, the United States will see a much higher level of alcohol drinking than anywhere else in the world. While St. Patrick's Day is a celebration of Ireland's patron saint, many celebrate in excess, leading to an increase in drunk driving related incidents. St. Patrick's Day can be so often ruined by other's careless and irresponsible acts.
St. Patrick's Day by the Numbers
With 33 million Irish-Americans and many more joining in the festivities, nearly 60% of Americans plan on celebrating St. Patrick's Day. Having so many individuals opting to partake in the holiday's celebrations, the amount of alcohol consumed is staggering. According to WalletHub, nearly $5.9 billion was spent on St. Patrick's Day in 2018. The sale of beer saw an increase of 152.5% as opposed to a usual day in the U.S.
As alcohol sales see an increase so do alcohol-related accidents. The NHTSA reports that 269 people were killed in drunk driving accidents from the 2012-2016 with 60 people losing their lives in 2016 alone, doubling the daily American average. This information leads to St. Patrick's Day trailing only three other holidays when it comes to most popular drinking days. St. Patrick's Day can be a day for fun and celebration, but it always comes with an increase in dangers. Staying alert and behaving in a responsible manner may save you from needing the assistance of a drunk driving attorney in Brownsville.
Tips to a Safe St. Patrick's Day
While celebrating St. Patrick's Day may seem daunting now, there are still plenty of ways to ensure that you have an exciting night while also remaining safe and responsible. Accidents can be avoided by taking the necessary precautions before starting your festivities. Here are a few tips to making sure your St. Patrick's Day is a safe one:
Arrange a Designated Driver: If you are planning on going out with a group of friends to a party or a bar, ensure that someone in the group remains sober to be able to take everyone home. While for some being the one not drinking may not be as fun, providing your friends the chance to remain safe throughout the night goes a long way.
Hosting a Party: If you plan on hosting a party of your own, encourage guests to bring their own beverages if they wish to drink. If a guest appears to be too drunk to drive themselves home safely, arrange a ride for them with one of the sober guests even if that means taking their keys away.
Public Transportation: Most major cities have some form of public transportation whether it be a bus, train, or maybe just a taxi. Utilizing these options your city provides can save you from a lifetime of regret.
Order an Uber/Lyft: One of the perks of living in this age is the ability to schedule a safe ride home through ride-sharing services like Uber and Lyft. Using just an app on your phone to call a ride home, this adds convenience to a night out. While some may not want to pay the extra money to get home, ride-sharing services' rates beat those you'd end up paying following a DUI or worse.
St. Patrick's Day should be a time of celebration and fun without needing to worry about the safety of you or your loved ones. However, there are individuals in the world who do not understand moderation nor practice safe and responsible drinking. If you are involved in an alcohol-related accident, seeking legal support should be a necessity. Green Law Firm remains one of Brownsville's premier personal injury law firms. Following an accident, look no further than us to be your drunk driving attorney.