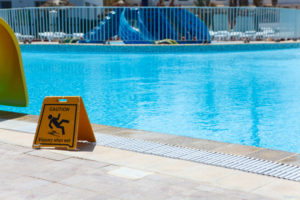 It's that time of year again – pool season! Summer is a favorite for many, especially those who enjoy spending time swimming and in the water. While swimming pools are a staple in Texas backyards and neighborhoods, it is important you follow proper safety protocol in order to ensure everyone has a safe and enjoyable summer. One of the best ways to do this is by making sure you know how to avoid swimming pool accidents. Accidents happen all the time, and for a wide range of reasons. By taking the time to understand what you can do in order to prevent an accident from taking place, you will be setting yourself up for a much happier summer.
According to the Centers for Disease Control (CDC), an estimated 3500 people die in drowning accidents every single year. Many of these drownings take place in local swimming pools. In the event a person survives a swimming pool accident, there is a good chance they will sustain serious, life-threatening injuries that require emergency medical treatment. Because of how serious these types of accidents can be, the following tips are important to follow whenever you are at the swimming pool:
If you are a pool owner, stay on top of maintenance – One of the most important things to keep in mind when it comes to swimming pool safety is proper maintenance. If you are a pool owner, it is imperative you hire a professional company to get your pool ready for summer. They will inspect your pool and fix any problem areas and clear the pool of debris, such as leaves and other plant matter.
Supervise children at all times – The pool is a busy place in the summer, which is why it is important you pay attention and watch children at all times. Drownings occur far too quickly, so supervisors should always be on high alert.
Use the buddy system – This holds true for both adults and children. Whenever you are at the pool or going into the water, make sure you have a 'buddy' with you and that a lifeguard is always present.
Make sure someone in your party knows CPR – CPR saves lives, which is why it is recommended that at least one person in your group knows CPR. Take a class if you need to, you won't regret it.
Keep the pool area clean – The last thing you want is someone to trip on toys or other items strewn around the pool. Whether you are in public or in your backyard, keep the pool area clean and make sure there aren't any potential hazards lying around.
Never dive into the shallow end – Diving into water less than six feet is far too shallow. Never do this, no matter how familiar you are with water.
Avoid swimming during thunderstorms – This should be common knowledge, but never swim during a thunderstorm. If you see lightning or hear thunder, get everyone out of the pool and stay out for at least 30 minutes after you saw the last strike.
The personal injury lawyers here at Green Law Firm strive to provide you with the information you need in order to stay safe this summer. If you plan on spending any time at the pool, please take the above tips into consideration. Some of the most common types of swimming pool accidents we see include drowning, electrocutions due to defective pool lights, and slip and fall accidents. In the event you are involved in a swimming pool accident, please contact Green Law Firm today and schedule a free consultation.