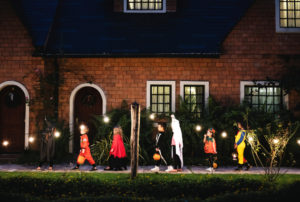 Halloween is just around the corner, which means it's time to stock up on candy, get the pumpkins carved, and make sure everyone's costume is ready for the spooky holiday. While Halloween may be a favorite holiday for many – young and old alike – it can also be very dangerous. According to statistics compiled over the last several years, kids out trick-or-treating are at a heightened risk of injury or death. And a new study shows that, in the United States, more people will die as a result of getting hit by a car on Halloween than any other day in October.
Many of us have fond memories of getting dressed up and taking to the streets in search of candy and other fun treats on Halloween. As you get older, Halloween takes on a whole new meaning centering around extravagant costumes and house parties. Let's face it – Halloween brings out the kid in all of us. However, it does not come without risk. Every year, we hear about the many tragic accidents on Halloween. With so many kids out after dark trick-or-treating, it is imperative drivers are extra cautious. Drivers should also be aware that kids, no matter how good they are, may get overly excited and run out into the street without looking. This is why it is up to you to drive safely and pay attention.
But car accidents aren't the only type of Halloween accidents that take place. Some of the most common accidents that occur on Halloween include: 
Pedestrian Accidents
Car Accidents
Hit-and-Run Accidents
Decoration Accidents
Today, we are going to take a closer look at Halloween accidents, including some of the most sobering statistics, causes, and what you can do about it. If you or your child has been injured in a Halloween accident, please call Green Law Firm and schedule an appointment today. Our personal injury lawyers understand the gravity of these types of cases and will do everything we can in your defense.
Scary Halloween Accident Statistics
However, Halloween isn't all candy and costumes. It is also a very dangerous holiday, especially for children. Not only are the evenings getting darker sooner, but there are more people out and about on October 31st than most other nights this time of year. Before we go over some of the most common types of Halloween accidents and the steps you should take following an accident, let's go over a few of the scariest Halloween accident statistics:
October is the second-deadliest month for motor vehicle deaths (behind only July )
Children are twice as likely to be killed as a result of getting hit by a car on Halloween (Centers for Disease and Control)
There is a 43 percent increase in pedestrian deaths on Halloween
From 1975 to 2016, 608 pedestrians died on Halloween

55 of these deaths were children between the ages of 4 and 8

The majority of Halloween pedestrian deaths took place around 6 pm
In 2017, 7,450 pedestrians died in non-traffic accidents

18 percent of these deaths took place at intersections or other road crossings

Drunk driving accounts for 31 percent of all Halloween motor vehicle accidents
These statistics aren't meant to scare you from allowing your kids to go out trick-or-treating this Halloween, but rather help you understand the risks. The better prepared we are, the safer this holiday will be – for everyone.
Common Types of Halloween Accidents and Injuries
We've mainly been focusing on pedestrian and motor vehicle accidents that occur on Halloween. And while pedestrian deaths and deaths from car accidents are the most common on Halloween, there are other dangers, too. Halloween decorations and costumes can also put people at risk, especially if safety isn't a focus. Here is a look at the most common types of Halloween accidents and injuries:
Traffic accidents
Eye injuries from costume accessories
Burn injuries from costume accessories and decorations
Puncture or poisoning injuries from candy and other goodies
Home injuries from hazards like lawn decor, gardening tools, and decorations
Accidents and injuries happen all the time – but the risk is greater on Halloween. If you, your child, or another loved one has been involved in any of the above accidents, please give Green Law Firm a call today. We are here to help you understand your rights and ensure justice is served. We know how sensitive these cases can be and will do everything we can to represent you. Additionally, we offer bilingual services, so give us a call today and schedule a free consultation to discuss your case.
Steps to Take Following a Halloween Accident 
It is no secret that teen drivers are the most likely to get in an accident, regardless of the time of year. Coupled with the inherent dangers of Halloween night, the chance of your teen being involved in an accident are relatively high. But teens aren't the only ones who can cause a Halloween accident.
Here is a look at some of the first steps you should take following a Halloween accident of any kind:
Contact the police
Seek medical attention
Document the scene of the accident

Take pictures, write down the details, talk to witnesses

Exchange information with any other drivers who have been involved
Never admit fault
Tips for Avoiding a Halloween Accident 
We want you and your loved ones to have a safe and fun-filled Halloween this year. Therefore, here are some of our favorite tips for avoiding a Halloween accident:
Use reflective tape on costumes to help your kids remain visible after dark
Avoid trick-or-treating alone
Examine all treats for choking hazards and potential tampering
Bring a flashlight along for trick-or-treating
Make sure any Halloween makeup you are using is non-toxic
Look both ways before crossing the street
Make sure all costumes fit well and don't block your vision
Steer clear of lit candles and luminaries
Only enter homes if you are with a trusted adult
Never accept treats from strangers
Agree on a time your children will return from trick-or-treating
Drivers: Turn on your headlights, keep the radio at a low volume, be on the lookout for trick-or-treaters, enter and exit driveways with care, and use your turn signals
Always have a designated driver
Avoid any distractions when driving or walking
Please keep the above safety tips in mind this Halloween; we provided these tips with the intention to help you have a safe and memorable holiday. In the event of a Brownsville Halloween accident, give Green Law Firm a call today.