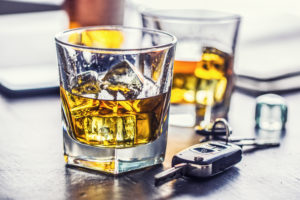 As we approach the start of a new year, we find ourselves in the middle of the holiday season. It's a time to come together with friends and family for holiday celebrations. It's a time full of good food, gifts, and love. Lost in all of these celebrations is the amount of alcohol that will be consumed.
According to Alcohol.org, binge drinking during the holidays has become a relatively common practice. Between Thanksgiving and New Year's Day, drinking rates increase by 33%. Unfortunately, the more people drink, the more likely they are to make reckless decisions, such as getting behind the wheel of a car after drinking.
Since the holiday season is such a popular time to drink, it is no surprise that rates of drunk driving accidents also rise. Even though these accidents are often devastating, they are almost always preventable. Regardless of the time of year, there are several things you can do to prevent these accidents.
Drunk driving accidents often result in devastating and life-altering outcomes. They leave victims with serious injuries, mounting medical bills, and mental anguish. If you were the victim of a drunk driving accident, you deserve justice. Contact The Green Law Firm today and let us help you recover compensation.
Drunk Driving Statistics
As we mentioned earlier, drinking rates increase significantly over the holiday season. The holidays are full of gatherings and celebrations that often involve alcohol. New Year's Eve, in particular, is synonymous with drinking, and people make a conscious decision to binge drink on this evening.
With that in mind, it's vital that we highlight the seriousness of drunk driving accidents before we move further. Here are some important facts about drunk driving:
Nearly 30 people die every day in drunk driving accidents.
Drunk driving accidents claim the lives of over 10,000 people every year.
2018 saw 10,511 people die in these accidents.
Drunk driving was the cause of 29% of all traffic fatalities in 2018.
In 2018, 231 children under the age of 14 died in drunk driving accidents.
Drunk drivers accounted for 40% of traffic fatalities between Christmas and New Year's Day.
Around 300 Americans die in drunk driving accidents between Christmas and New Year's Day.
Even a blood alcohol concentration (BAC) of .02 can reduce your reflexes and motor functions.
More than 27% of 21-to-24-year olds in fatal crashes were under the influence of alcohol.
While these numbers have dropped significantly over the years, drinking and driving is still a real threat. The entire team at The Green Law Firm is committed to preventing drunk driving accidents and will do everything we can to help those affected by these accidents.
Preventing Drunk Driving Accidents 
All drunk driving accidents are preventable. There is no reason to get behind the wheel of a car after consuming alcohol. In all 50 states, the District of Columbia, and Puerto Rico, it is illegal to drive with a blood alcohol concentration (BAC) of .08 or higher.
Even if you've only had a little to drink, never get behind the wheel of a car. As mentioned earlier, even a BAC of .02 can impair your motor skills and judgment. In 2018, 1,878 people that died in these accidents had lower BAC levels (ranging from .01 to .07).
While laws and policies have been made to curb the number of drunk drivers on the road, people continue to drive under the influence. There is still a lot that you can do to prevent these accidents:
Before you start drinking, designate a sober driver to get you home.
Use rideshares apps (such as Uber or Lyft) or taxis to get you to and from your destination.
Leave your keys at home or give them to someone you trust for safekeeping.
Limit the amount you drink.
Pace yourself.
Do not drink on an empty stomach.
Never ride in a car with someone who has been drinking.
Stop your friends if they try to drive after drinking. Take their keys if you have to.
Make plans to stay where you drink, if possible, or in a hotel.
If you are hosting a party, always make sure every guest has a safe and sober ride home.
If you suspect a drunk driver on the road, contact the police with all necessary information, such as the location, vehicle model and color, and license plate number.
What to Do in a Drunk Driving Accident
Even if you are as careful as can be, accidents can still occur. While you can take all the necessary safety measures, you cannot control the actions of others. Drunk drivers are unpredictable and reckless, often causing unspeakable damage.
If preventing drunk driving accidents does not work, you need to be prepared if you ever find yourself in one:
Remain at the scene and call the police. Call 911 after an accident. A police officer will arrive at the scene of the accident to collect statements from those involved and eyewitnesses. They will also be able to arrest those responsible.
Gather evidence. Take pictures of the scene of the accident, the vehicles involved, any damages, your injuries, and anything else relevant to your case. Collect the contact and vehicle information of the drunk driver. Also, collect statements and contact information from eyewitnesses. This evidence will strengthen your case.
Write down everything you remember. Try to record or write down everything about the accident, including what happened and how it happened. After adrenaline wears off, you might forget important details, so write them down quickly.
Seek medical attention. Even if you feel fine, seek medical attention anyway. Many injuries do not make themselves known until much later. Without timely medical records, you might not be able to recover damages for your injuries or the treatment you received.
Contact your insurance. Reach out to your insurance company and let them know what happened to see what steps you need to take.
Contact a car accident attorney. Last but not least, contact a car accident attorney as soon as possible. They will be able to help you navigate this situation and will work to ensure you receive the compensation and justice you deserve.
Contact The Green Law Firm
Drunk driving accidents are an issue year-round, but they become particularly prominent over the holiday season. All of these accidents are preventable. There is no reason to get behind the wheel of a car after drinking.
Preventing drunk driving accidents should be your first priority. However, sometimes these accidents do happen. In these cases, you need a dedicated and experienced attorney that possesses the knowledge, skills, and resources to secure the compensation you deserve. If you were the victim of a drunk driving accident, contact The Green Law Firm today.