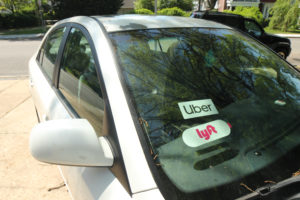 In recent years, the popularity of rideshare services has continuously increased. Lyft is available in over 300 U.S. cities and two Canadian cities, with 23 million users and 1.4 million drivers. Alternatively, Uber offers its services in 69 countries and over 900 cities worldwide. As of 2018, there were 41.8 million U.S. users and five million Uber drivers worldwide, most of which are in the U.S. Lyft's valuation sits at $15.1 billion while Uber's is at $72 billion.
As you can see, rideshare apps are not only popular but also incredibly lucrative. These services help those who don't own a vehicle get from one place to another. Additionally, they also help prevent drunk driving accidents. However, while these apps provide plenty of benefits, you can still end up in a rideshare accident.
These accidents are confusing because you weren't driving, and you are paying someone for their services. Naturally, things can get quite complicated, which is why you need the help of a trusted car accident attorney on your side. The attorneys at The Green Law Firm will be able to assist you following a rideshare accident, navigating the complex issues these cases present. If you find yourself in one of these accidents, give us a call today.
What are Rideshare Apps?
While we briefly touched on them already, let's take a closer look at rideshare apps. The first rideshare service to hit the market was Uber in 2009. Now, the company is valued at $72 billion. In 2019, there were over 6.9 billion Uber trips worldwide, with the average rider taking 5.7 trips per month.
Lyft entered the market in 2012, building up to 4.2 billion rides in the U.S. in 2018. As of September 2020, Lyft currently only sits behind Uber as the second-largest ridesharing service provider in the U.S. Lyft accounts for 31% of the market while Uber holds 69%.
By definition, ridesharing refers to "the sharing of rides or transportation or relating to a car service with which a person uses a smartphone app to arrange a ride in a usually privately-owned vehicle." Essentially, these services help people get from point A to point B through a car service.
Whether you have been drinking and want to avoid driving drunk, or you want to reduce your carbon footprint by sharing a ride with others, rideshare apps have changed the transportation industry.
Rideshare Accident Statistics
Rideshare services have made it far easier to hail rides with their apps, which connect you to a driver quickly. However, virtually anyone can become a driver. The background checks are far from extensive, and there is no training required to become one. Naturally, not all of these drivers are the most cautious or skilled. In fact, the rise of rideshare services has increased traffic deaths by 2-3% since 2011, totaling around 1,100 fatalities a year.
Drivers spend around 40-60% of their time searching for riders (also known as "deadheading"). That means while drivers might be active, they aren't always taking people to and from places. Unfortunately, with so many drivers on the road, rideshare accidents are bound to happen.
Here are some statistics from Uber's Safety Report in 2018 to give you an idea of these accidents:
There were 97 fatal traffic accidents, totaling 107 fatalities, in 2017 and 2018.
90% of these accidents occurred in urban areas.
21% of these fatalities were drivers, 21% were riders, and the rest were third parties.
30% of fatal crashes involved pedestrians, 25% of which were either drivers or riders using the app outside of the vehicle.
Uber estimates that there are .57 Uber-related fatalities for every 100 million miles traveled. The national average is 1.1 fatalities per 100 million miles.
As you can see, while convenient, these rideshare services are not without their risks. And since you are just a passenger, you have no control over the situation. If you find yourself in a rideshare accident, The Green Law Firm is here to help you through this complicated situation.
Common Causes of Rideshare Accidents 
These accidents can occur for a variety of reasons. After all, drivers need their phones to navigate around a city, using directions to find riders and take them to their location. In many instances, drivers can become distracted by their phones.
Plenty of things can go wrong that lead to rideshare accidents. Some of the most common causes include:
Speeding
Distracted driving
Driving under the influence of drugs or alcohol
Driving while tired or fatigued
Inclement weather
Failing to obey traffic lights, signs, and laws
Failing to maintain a vehicle
Poor road conditions
Failing to use signals
Following vehicles too closely
Road rage
Not knowing the area
Uber's Insurance Policy 
If you are a rider and find yourself in a rideshare accident, things can feel overwhelming and get complicated quickly. After all, you were not driving in the accident. Additionally, the insurance situation can be tricky, too. While Uber does offer a $1 million insurance policy, it's not straightforward.
For example, if a driver is using their vehicle for something personal and is not accepting rides, the policy does not cover them. The insurance policy covers drivers when they are available for rides or have a passenger in their car. In the event of an accident, the insurance policy covers both the driver and the passenger.
Additionally, if a third party suffers an injury (such as a pedestrian or a cyclist), the policy will cover them if the driver has a passenger with them. Uber also offers a $1 million uninsured/underinsured motorist policy. This insurance policy is complicated, which is why it pays to have the help of a trusted car accident attorney on your side to help you recover the damages you deserve.
What to Do Following a Rideshare Accident 
People use rideshare apps for convenience. They use these services when they don't have a car to drive them somewhere or want to be safe when out and about. Nobody expects to get in an accident when riding in one. When these accidents do occur, you must take the necessary steps to protect yourself in the aftermath.
If you find yourself in a rideshare accident, you should:
Contact the police. Police can file a report that will strengthen your case.
Seek medical attention right away. Many injuries aren't readily apparent at the time of an accident, often showing up weeks later. Getting treated right away ensures these injuries are documented, which helps you when recovering compensation.
Document the accident. Write down as much as you can about the events of the accident.
Collect evidence. Take pictures of the vehicles involved, the scene of the accident, and injuries. Collect contact information, insurance information, license plate numbers, and driver's license numbers. Collect eyewitness statements, as well.
Report the accident to rideshare service. These services will need to investigate the accident to determine if their insurance policy covers it.
Talk to your insurance company.
Contact an experienced car accident attorney.
While rideshares have changed the taxi industry forever, they still come with risks. It is not a perfect system, and some drivers act negligently. In some cases, other drivers on the road cause an accident. In all instances, these accidents can be complicated. That is why you should contact the experienced car accident attorneys at The Green Law Firm. We will help you navigate this situation to ensure you recover the damages you deserve.