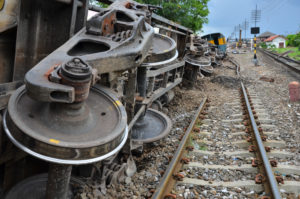 Accidents occur every day for a host of different reasons. Whether someone causes an accident because of drinking and driving or you slip and fall because a property owner failed to maintain their property, accidents can and do happen. One such accident that people hardly discuss (yet is still an incredibly devastating one) is train accidents.
As you can imagine, these accidents often result in catastrophic outcomes. Trains are massive machines, weighing anywhere between 4,000 and 20,000 tons. Even the most minor of train accidents can result in significant injuries and thousands of dollars in damage. In many cases, these accidents are fatal.
While these accidents are almost always devastating, they are also incredibly difficult to litigate. Unlike car accidents, they are many factors to consider when litigating these cases. A handful of parties can be held accountable for their actions, including railroad companies, train conductors, and even those tasked with maintaining these machines.
Train accidents are always complicated. Various factors play into these accidents, and many parties are involved in these cases. Fortunately, with the help of a trusted and experienced train accident attorney, you can recover damages. If you or a loved one suffered injuries in a train accident, contact The Green Law Firm today and let us fight for the justice you deserve.
Train Accident Statistics
While not nearly as common as car accidents, train accidents occur far more often than many people might think. Regardless of the cause of these accidents, the outcomes are almost always catastrophic.
To give you a better idea of the gravity of train accidents, here are some telling statistics:
Nearly 1,000 people die in train-related accidents every year.
Trains kill roughly one person every 100 minutes.
Over half of train accidents occur at unprotected crossings.
Over 80% of these crossings lack adequate warning signs, such as lights and gates.
In 2019, there were 937 fatalities in train crashes.
There were 11,434 rail accidents in 2019, resulting in 7,730 injuries.
Passenger vehicle occupants are 40 times more likely to die in a collision with a train than in an accident with another car.
Every two weeks, a train carrying hazardous materials derails in the U.S.
As you can see, train accidents are dangerous. The sheer size and speed of trains mean that any accident involving them almost always leads to devastation.
Common Train Accident Injuries
Trains are massive transport vehicles. They can weigh up to 20,000 tons, which dwarfs the size of traditional passenger vehicles. That means if a train does collide with a car, it will rip through it with ease, leaving a wave of destruction behind it. Unfortunately, these accidents almost always result in significant injuries and even death.
Some of the most common injuries people sustain in these accidents include:
Broken bones
Internal organ damage
Severe burns
Scarring/disfigurement
Loss of limb/amputation
Paralysis
Cuts, bruises, and abrasions
Traumatic brain injuries (TBI)
Brain, neck, and back injuries
Spinal cord injuries
Death
Regardless of how you think you feel, you should always seek medical attention following these accidents. Far too many injuries aren't apparent at the time of an accident. They take days or even weeks to make themselves known. If you get them diagnosed and treated early, you not only receive the treatment you need but documenting your injuries at the time of the accident also ensures you can recover damages for these injuries.
Common Train Accident Causes
Any number of things can factor into a train accident, from negligence to defective tracks. In many cases, several factors lead to these accidents. While some things are out of everyone's control, others are preventable.
Some of the most common causes of train accidents include:
Negligence: Railroad companies, train conductors, railroad employees, construction companies, and even government agencies can be negligent in these accidents by making poor decisions, improper maintenance, not taking the necessary safety precautions, and more.
Human Error: Inexperience, fatigue, inebriation, poor judgment, and more are examples of human errors that cause train accidents.
Reckless Drivers or Pedestrians: Drivers can cause a train accident by acting recklessly when a train is crossing, either by being distracted or attempting to cross tracks at the last moment.
Poor Maintenance: As with all vehicles, trains require a great deal of maintenance to ensure they function correctly. Train maintenance prevents many issues, such as mechanical failure or faulty parts.
Defective Tracks: Poorly designed or maintained tracks almost always result in accidents. Foreign objects on train tracks can also lead to disaster.
Unprotected Railroad Crossings: As mentioned earlier, 80% of crossings lack adequate warning signs or gates, whether malfunctioning equipment or none at all.
Speedy Trains: Much like with cars, the faster a train goes, the more likely it is to derail or cause an accident.
Derailments: can occur either due to a collision with another object, conductor error, mechanical failure, defective rails, or faulty wheels. These don't always result in a train leaving the tracks, however.
Stalled Cars on Tracks: Cars can get stuck on railroad crossings when the vehicle stalls out when crossing due to a poorly maintained vehicle.
Suicides: Unfortunately, many people choose to take their lives by standing on train tracks. In 2017, 266 killed themselves by doing so.
Who Can Be Held Liable?
Depending on the circumstances of the accident, several parties can be held responsible for train accidents. You can even hold multiple parties accountable following an accident.
Some potentially at-fault parties include:
Railroad companies
Railroad employees
Train conductors
Maintenance employees
Train part manufacturer
Construction companies
As you can see, any number of parties can be at fault in these accidents. It takes a qualified and experienced personal injury attorney to determine which party (or parties) is responsible for these accidents.
Contact The Green Law Firm 
Train accidents almost always result in devastating outcomes. The sheer size, power, and speed of these machines all but guarantee thousands of dollars in property damage and injuries. In many cases, these accidents are fatal. While these accidents are avoidable, even the most careful drivers can find themselves on the receiving end of them.
If you suffered significant injuries in a train accident or lost a loved one, contact The Green Law Firm today. Our team of knowledgeable and experienced attorneys will help you navigate this legal process, identify the at-fault party, and secure the compensation you deserve.